Jan 15, 2019 —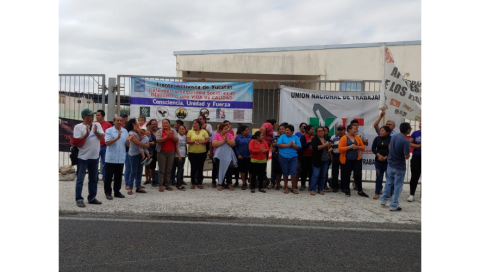 Photo: Eduardo Lliteras Senties
Workers formerly employed by the Canadian clothing manufacturer, Alabama Cotton, in Yucatán, Mexico are protesting the company's failure to provide full legal severance pay, back wages and other compensation owing after the company closed it Alabama Mexico factory in late December 2018.
Workers remain outside the factory preventing the company from removing machinery from the plant, which, according to a Mexican newspaper, La Jornada Maya, the company attempted to do in late December. According to local media reports, while some of the workers have accepted severance pay that is less than their legal entitlement, workers with more seniority who are entitled to higher severance pay continue to protest outside the factory.
Workers are reportedly also owed three weeks back pay, their annual holiday bonus, vacation pay, and legal overtime pay.
Alabama Mexico is a sportswear manufacturer based in Montreal, Quebec. Two other Montreal-based companies, Coalision Inc and Lamour International, imported products from the company's Alabama Mexico factory in 2016 and 2017. Coalision owns and distributes Lolë brand activewear products and has retail stores in Canada, the US and Europe.
MSN urges the CEO of Alabama Cotton, Howard Lapkovsky, to live up to his responsibility to the former Alabama Mexico workers by ensuring they receive their full legal severance, back pay and other compensation owing without further delay.