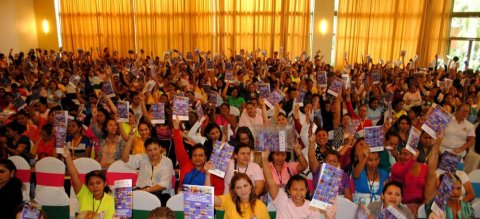 Maquila workers express their support for the Women's Labour Rights Agenda for the Central American Maquila Industry, March 2, 2014, Managua, Nicaragua.
The Maquila Solidarity Network (MSN) is a labour and women's rights organization that supports the efforts of workers in global supply chains to win improved wages and working conditions and greater respect for their rights.
MSN works with women's and labour rights organizations, primarily in Central America and Mexico, on cases of worker rights violations and on joint projects and initiatives focused on systemic issues in the garment industry.
At the international level, MSN collaborates with the Clean Clothes Campaign and other counterpart organizations on labour rights issues in global supply chains, including increased transparency and public access to information on where and under what conditions apparel and other textile products are made. As a witness signatory to the Accord on Fire and Building Safety in Bangladesh, we support the Accord's efforts to improve worker safety in garment factories in that country.
MSN believes that international brands and retailers share responsibility for working conditions in their supplier factories and must be held accountable for policies and practices that contribute to worker rights abuses. MSN engages with brands on policies they should adopt and the actions they should take to tackle systemic issues, such as lack of respect for freedom of association, poverty wages, precarious employment, and gender-based discrimination.
Archives of our work between 1994 and 2014 include information on international and Canadian campaigns we were involved in and a complete collection of our publications, including our newsletter, the Maquila Solidarity Update and the Codes Memo, as well as numerous other publications and educational resource materials.
To access MSN's 20th anniversary archives and read more about our previous work, click here
To contact us, send an email to communications(at)maquilasolidarity.org
Click here to view recent annual financial statements