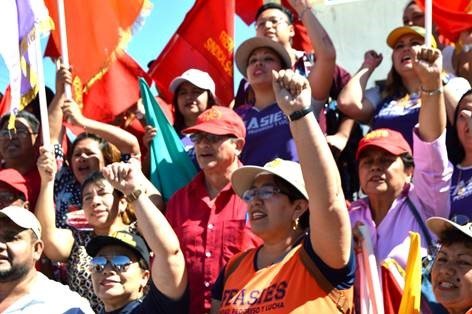 Photo: FEASIES Communications
The Maquila Solidarity Network (MSN) is a labour and women's rights organization that has worked for over 25 years to support the efforts of workers in global supply chains to win improved wages and working conditions and greater respect for their rights, and to hold corporations accountable for labour rights abuses in their global supply chains.
We work closely with trade union, women's and labour rights organizations, primarily in Central America and Mexico, to find solutions to factory-based cases of worker rights violations and systemic issues in the industry, such as lack of respect for freedom of association, poverty wages, precarious employment, and gender-based discrimination, which block progress toward decent work and wages that meet workers' basic needs.
MSN believes that international apparel and footwear brands and retailers must take responsibility for working conditions and poverty wages in the factories producing their products. MSN engages with and, when necessary, campaigns against international apparel and footwear companies to achieve corrective action when workers' rights are violated and to find solutions to systemic issues. For example, MSN plays a leading role in the Americas Group (AG), a multi-stakeholder forum that includes major apparel and footwear brands sourcing in the Americas. Its work has focused on freedom of association in Mexico and the provision of childcare in Central America.
Internationally, MSN collaborates with the Clean Clothes Campaign and other counterpart organizations on global campaigns and initiatives for a living wage, fire and building safety in Bangladeshi garment factories, and increased transparency and public access to information on where, and under what conditions, apparel and footwear products are made.
To contact MSN and/or receive quarterly email updates, write us at: communications(at)maquilasolidarity.org

To access MSN's 20-year archives (1994-2014), including information on previous international and Canadian campaigns and a complete collection of our publications, including our newsletter, the Maquila Solidarity Update, and the Codes Memo, click here.

Click here to view recent annual financial statements.