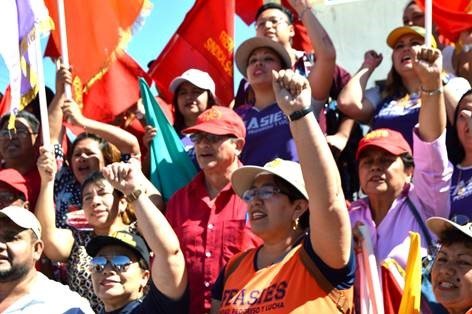 Photo: FEASIES Communications
The Maquila Solidarity Network (MSN) is a labour and women's rights organization that has worked for over 25 years to support the efforts of workers in the global garment and footwear industries win improved wages and working conditions and greater respect for their rights.
MSN works closely with trade union, women's and labour rights organizations to combat factory-level labour rights violations and to achieve sustainable solutions to systemic issues that block progress toward decent work and living wages. We collaborate with international allies on strategic global campaigns to achieve these goals.
MSN believes corporations must be held accountable for labour rights abuses in their global supply chains. We engage with and, when necessary, campaign against international apparel and footwear companies to remedy violations and to achieve sustainable solutions to priority concerns of workers in their supply chains.
MSN believes governments also have an important role to play in adopting legislation and policies that require and encourage companies to conduct human rights due diligence to identify, prevent, mitigate and account for how they address actual and potential harm to workers in their global supply chains.
MSN is based in Toronto, Canada, and has a small office in Mexico City. The geographic focus of our work is Central America and Mexico.
To contact MSN and/or receive periodic email updates, please write us at: communications(at)maquilasolidarity.org
To access MSN's 20-year archives (1994-2014), click here.
Click here to view recent annual financial statements.