COVID-19 | Defending Workers' Rights and Livelihoods in the Time of the Pandemic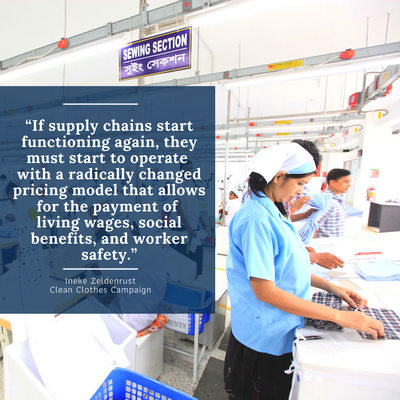 The World Health Organization's March 11 declaration of the COVID-19 pandemic and its almost immediate impact on workers' jobs and incomes has laid bare the immense and historical structural inequalities of the global garment and footwear industry.
MSN is working closely with labour and women's rights organizations and trade unions in Central America, Mexico and Asia, and with allies at the international level to ensure that workers' safety, incomes and rights are protected throughout the duration of this crisis and beyond.
MSN is joining with others in the Clean Clothes Campaign (CCC) global network in calling on governments, international financial institutions, brands, and other stakeholders to take a series of actions to mitigate the immediate and long-term impacts of the COVID-19 pandemic on workers in global supply chains, and to ensure that workers have access to a living wage and a more resilient social safety net, moving forward.
Find the complete list of the CCC network's demands is here.
Find up-to-date information on how COVID-19 is impacting workers in the global garment and footwear industry, here:
Photo Credit: Solidarity Center/Molly McCoy