Sep 13, 2016 —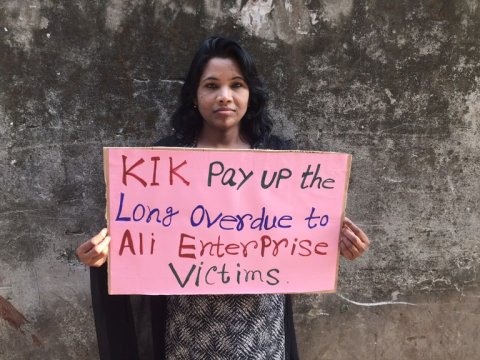 Photo: Clean Clothes Campaign
Four years after more than 250 garment workers were killed and over 50 injured in a factory fire in Karachi, Pakistan, German retailer Kik has finally agreed to pay over US$5 million in compensation.
It took four years of campaigning and months of negotiations to win just compensation for the families of the workers who lost their lives and the injured workers who survived. Kik had previously paid $1 million to a relief fund after signing a Memorandum of Understanding with Pakistani labour rights organization PILER.
When the fire ripped through the Ali Enterprises factory on September 11, 2012, workers could not escape the building because the exit doors were locked and windows barred. Kik was the only known buyer whose products were being made in the factory at the time of the fire.
Key leaders of the international campaign included the Pakistani National Trade Union Federation (NTUF), PILER, the IndustriALL and UNI global unions, and the Clean Clothes Campaign.
For more information, click here