Mar 29, 2016 —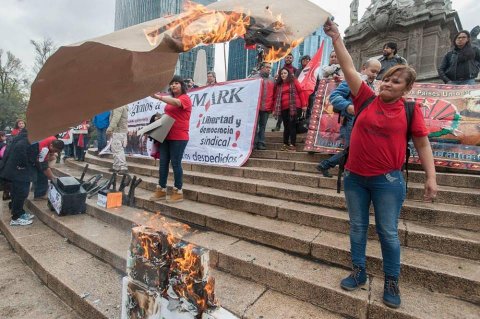 Photo: ©2016 Keith Dannemiller
Thirty-five organizations based in the US, Canada, Europe and Mexico have signed an Open Letter urging US-based print cartridge manufacturer, Lexmark, to reinstate workers fired for protesting unjust working conditions and attempting to organize an independent union at a Lexmark owned and operated factory in Ciudad Juarez, Mexico.
The Open Letter signed by MSN and 34 other human and labour rights, trade union, faith, women's, student, and lawyers' organizations also calls on Lexmark to negotiate in good faith with worker representatives to resolve the workers' concerns and recognize their right to form an independent union and elect their own representatives.
In the summer and fall of 2015, hundreds of workers at Lexmark and three other factories in Juarez participated in a series of protests against low wages, sexual harassment and unsafe working conditions. In December, Lexmark fired 120 workers for taking part in protests.
While some of the fired workers have since been bought off by the company, 75 continued to protest outside the factory and are awaiting decisions of the labour board on their reinstatement and their November 3 petition for recognition of their independent union.
Click here for a copy of the Open letter
Click here for further information from MSN
For more background on this case click here (FNS News)