Apr 24, 2018 —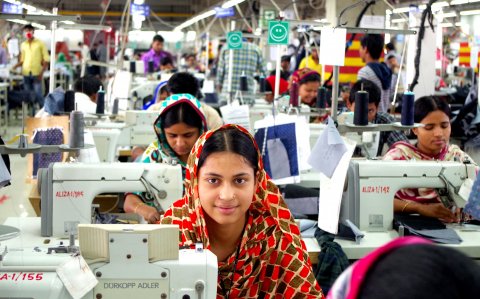 Photo credit: AFL-CIO Solidarity Center
Today marks the five-year anniversary of the tragic collapse of the Rana Plaza building that took the lives of 1,134 garment workers and seriously injured over 2,500. It is now widely known that workers who reported for work that morning did not want to enter the building because they knew it was unsafe were told by managers that they had to go to work in order to meet order deadlines of the international brands.
We honour the memory of those who died in this preventable tragedy and pledge to continue to support the efforts of the Bangladesh Accord on Fire and Building Safety to achieve safe working conditions for Bangladeshi garment workers. The Maquila Solidarity Network (MSN) is joining with our allies in the international labour rights movement to call on apparel brands and retailers to sign the renewed Accord on Fire and Building Safety in Bangladesh, so that the Accord's innovative factory safety program will continue for another three years.
Immediately following the collapse, the labour rights movement launched an international campaign that eventually won US$30 million in compensation for the injured survivors and families of those killed and convinced more than 200 apparel brands to sign the original Accord, a legally-binding agreement between the brands and Global and Bangladeshi unions.
The signing of the Accord set in motion a five-year program of independent factory inspections, transparent reporting on inspection findings and status of corrective action, and the creation of health and safety committees, a health and safety training program and a complaints process for workers.
Since May 2013, Accord engineers have inspected more than 2,000 garment factories and identified over 150,000 safety hazards. Five years later, over 85% of safety violations have been remediated, more than 1.4 million workers have been informed about common safety hazards and their right to refuse unsafe work, and more than 195 safety complaints from workers and their representatives have been resolved.
To date, over 140 brands and retailers have signed the renewed Accord, but a number of major companies whose apparel products are made in Bangladesh have so far failed to do so. So far, only one Canadian company, Loblaw, has signed the renewed Accord.
We urge you to join with us in calling on those brands and retailers that have not yet signed the renewed Accord to do so without further delay. The health and safety of Bangladeshi garment workers depends on it.