Nov 15, 2017 —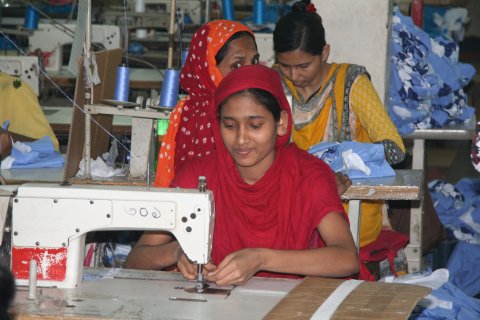 Photo: Canadian union delegation to Bangladesh (2016)
On October 26, the Accord on Fire and Building Safety in Bangladesh announced that it will continue its work to improve worker safety in garment export factories "until a set of rigorous readiness conditions are met by local regulatory bodies."
The Accord was responding to misleading statements made days earlier in the Bangladeshi media claiming that the Accord would finish its work and leave the country in 2018. Those statements, which were made by Bangladeshi government officials and the Bangladesh Garment Manufacturers and Exporters Association (BGMEA), came after a meeting between Accord signatory brands and Global Unions, the BGMEA and the Ministers of Commerce and Labour.
The Accord statement clarifies that it will continue operations beyond May 2018 and that the brand and trade union signatories to the accord, the BGMEA and the Bangladesh Ministers of Commerce and Labour agree that "substantial additional capacity building is necessary before responsibility to protect workers in factories producing for Accord signatory brands can be responsibly handed over to a national regulatory body."
In addition, a joint monitoring committee will review on a bi-annual basis whether a set of conditions have been met that would make that transfer possible. This joint committee will be comprised of Accord signatories, the Bangladesh government, the Bangladesh Garment Manufacturers and Exporters Association (BGMEA), and the International Labour Organization (ILO).
The set of conditions include "demonstrated proficiency in inspection capacity, remediation of hazards, enforcement of the law against noncompliant factories, full transparency of governance and remediation progress, and investigation and fair resolution of workers' safety complaints."
The statement clarifies that the "Accord will depart Bangladesh when the local regulatory body demonstrates full capacity to inspect factories, compel remedies, and protect workers."
In an effort to further clarify that the Accord will be continuing its important work on fire and building safety in Bangladesh factories, the four witness signatories to the Accord published an Op Ed in the Bangladesh newspaper, the Daily Star, on November 15, 2017. In it, they note that "any objective assessment of the government's current state of readiness will conclude that there is a lot of work to do. In order for the Accord to conclude its operations, local mechanisms must be developed, put in place, and running smoothly to ensure safe working conditions for the country's four million garment workers."
MSN is one of the witness signatories that co-signed the Op Ed.
Click here to read the full Accord statement
Read the Op Ed by the four witness signatories regarding the statement