Dec 15, 2022 —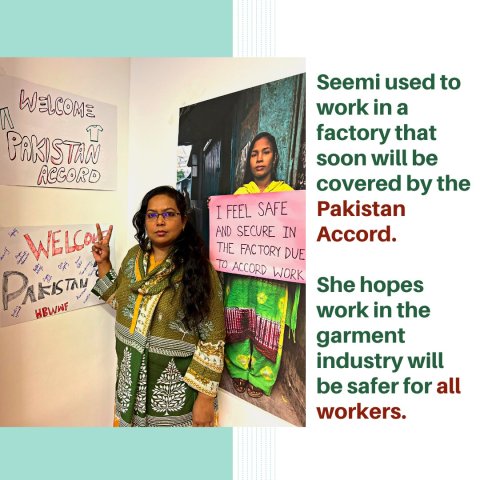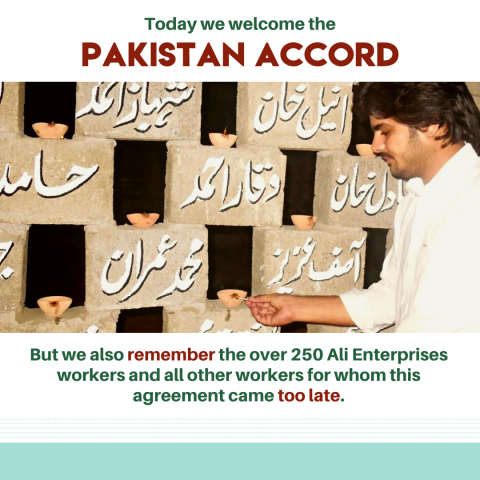 MSN joins with other Witness Signatories to the International Accord for Health and Safety in the Textile and Garment Industry in celebrating the announcement of the expansion of the Accord program to Pakistan.
This long-awaited agreement between global unions and international brands means that hundreds of factories in Pakistan producing apparel products for signatory brands and retailers will be the subject of independent health and safety inspections, and garment and textile workers in the country will receive health and safety training and have the right to file anonymous complaints when violations at those factories take place.
The International Accord is a legally-binding agreement requiring signatory companies to ensure that their suppliers cooperate with independent health and safety inspections and that they have adequate financial resources to make necessary safety renovations.
The new agreement is modelled on the Bangladesh Accord, signed after the 2013 Rana Plaza factory collapse. The Accord transformed the Bangladesh garment industry: more than 1,600 factories employing 2.5 million workers made critical safety improvements, saving countless lives. It could achieve a similar transformation in Pakistan.
In 2012, more than 250 workers died in the Ali Enterprises factory fire in Karachi, the worst fire in the history of the global garment industry. A Clean Clothes Campaign factory incidents tracker lists over three dozen factory incidents that occurred in Pakistan since January 2021, including deaths, blocked fire exits, and faulty electrical wiring that led to explosions and is the principal cause of factory fires.
After a decade-long push towards factory safety for Pakistan's garment workers, Pakistani unions and NGO witness signatories to the International Accord celebrate the announcement of the new agreement:

Nasir Mansoor, General Secretary of the National Trade Union Federation Pakistan, said: "After years of fighting for the expansion of the Accord to Pakistan, our workers can finally be brought under its monitoring and complaint mechanisms. If enough brands sign, workers will not have to fear for their lives when going to work and will know who to appeal to when their factory is unsafe. The strength of the Accord is in the fact that unions have equal power to corporations in its decision-making."

Zehra Khan, General Secretary of the Home-Based Women Workers' Federation, said: "The Accord program will bring inspections, safety trainings, and a complaint mechanism covering all health and safety issues, including gender-based violence, to workers in Pakistan producing for signatory brands. Particular attention will be needed to ensure that women workers, who are often not officially registered and might be working from home, have the same access to this programme as other workers."

"We are heartened that the ground-breaking Accord program will now come to Pakistan, where it is urgently needed. All brands sourcing from Pakistan should embrace this agreement," said Ineke Zeldenrust, International Coordinator of the Clean Clothes Campaign. "It is important to note that garment and textile workers in Pakistan had to wait a decade for this progress. We hope workers in other key garment producing countries won't have to wait as long."

Scott Nova, Executive Director of the Worker Rights Consortium, said: "The hallmarks of the Pakistan Accord are accountability, enforceability, and transparency. Under this new agreement, Pakistan will become one of the safest places in the world to make clothes."
For more information: