Jul 8, 2016 —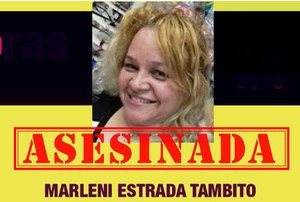 Photo: Iniciativa Mesoamericana de Mujeres Defensoras de Derechos Humanos/Solidarity Center
The Maquila Solidarity Network joins labour, human rights, women's organizations in Guatemala and internationally in strongly condemning the murder of Guatemalan labour leader Brenda Marleni Estrada Tambito, and calls on the Guatemalan government to launch an immediate, thorough and impartial investigation into her assassination, bring those responsible to justice, and take appropriate measures to ensure the safety of members of her family.
On June 19, after dropping off her father, Jose Estrada, at a bus terminal, Ms. Estrada Tambito was shot five times and killed by unknown individuals as she drove through Guatemala City.
Ms. Estrada Tambito was the deputy coordinator of the Legal Advisory Commission of the Unitary Trade Union Organization of Guatemalan Workers (UNSITRAGUA-HISTÓRICA). Her father, a senior leader of the same union organization, has been providing advice to banana plantation workers on the negotiation of collective bargaining agreements.
Her assassination is only the latest in a series of murders, physical attacks and threats against trade unionists in Guatemala. In the past eight years, 62 Guatemalan union leaders and members have been murdered.
See MSN's letter (in Spanish) to the Guatemalan President.
For more information, see:
AFL-CIO Solidarity Center
Front Line Defenders
FIDH (in Spanish)
Clean Clothes Campaign