Sep 26, 2018 —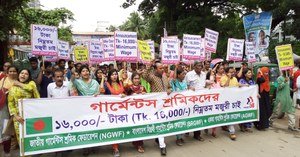 Photo: Clean Clothes Campaign
On September 13, after several months of delays, the government-appointed Bangladesh Minimum Wage Board finally announced the new monthly minimum wage of 8,000 taka (US$95), an increase of only 2700 taka (US$32) from the previous amount, which has remained the same since 2013.
This new minimum wage falls short of workers' demands and points to the Minimum Wage Board's disregard for meaningful dialogue with workers and their legitimate unions in the setting of the minimum wage. Although the Minimum Wage Board does include the Bangladesh Garment Manufacturers and Exporters Association (BGMEA) and some unions more aligned with government interests, unions in the IndustriALL Bangladesh Council (IBC) have been excluded from the Board.
"The declaration of the minimum wage of 8,000 taka totally failed to fulfill the expectations of the workers and workers' organizations," according to Shapon Salauddin, Secretary General of the IBC. In the months' long lead up to the Wage Board decision, and amidst persistent harassment and intimidation, workers and leaders of IBC and other unions had been advocating for a minimum wage of 16,000 taka (US$191), in order to account for the increase in the cost of living and the lack of a minimum wage increase over the past five years.
IndustriALL, the Clean Clothes Campaign (CCC) and other international labour organizations, including MSN, have called on international apparel brands to publicly support the workers' demand for a US$191 minimum wage, to increase the price they pay to Bangladeshi suppliers to ensure they can pay the increase, and to speak out against any repression and harassment against union leaders.
To date, only Inditex (owner of Zara), has responded by posting a public statement urging that the "collective demands of workers, expressed through their legitimate unions, including the IndustriALL Bangladesh Council, be taken into account" in the setting of the minimum wage.
MSN joins with the Clean Clothes Campaign and other international allies in supporting the IBC's call for an immediate review of the announced amount of the minimum wage increase, the flawed wage board process, and the exclusion of legitimate unions in the wage setting process.