Feb 2, 2020 —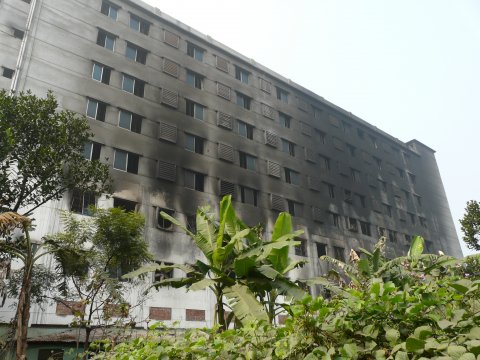 Photo: Tazreen factory fire, 2012
The witness signatories to the Accord on Fire and Building Safety in Bangladesh have released a public statement warning of problems with the transition of the Accord's responsibilities to a new local safety inspection body.
In the joint statement, the Clean Clothes Campaign, International Labor Rights Forum/Global Labor Justice, Maquila Solidarity Network, and Worker Rights Consortium raise a series of concerns about the readiness and capacity of the Bangladeshi Ready-Made Garment Sustainability Council (RSC) to take over the responsibilities of the ground-breaking Accord and to effectively monitor and improve the safety of Bangladeshi garment factories.
The statement highlights the hasty and fraught transition of responsibilities from the Accord office to the RSC due to pressure from the Bangladeshi government and the Bangladesh Garment Manufacturers and Exporters Association (BGMEA). The transition was further hindered by the onset of the COVID-19 pandemic; however, calls from worker rights and safety advocates to postpone the transition process were ignored and the RSC began to operate on June 1, without filling key senior leadership positions.
The statement also raises concern about the inadequate worker representation on the RSC. Unlike the Accord, whose governance body included equal representation from worker and industry representatives, the RSC is governed by a board of directors comprised predominantly of brands and factory owners, with union representation forming only a third of its members.
According to the statement, 150 days after the RSC assumed the responsibilities of the Accord office, it has been unable to demonstrate that it can credibly ensure that factories meet the binding obligations of the Accord.
The witness signatories outline five criteria that the RSC must meet in order to demonstrate that it has the capacity to implement the safety program mandated by the binding Accord Agreement, which remains in effect until 2021: maintain full and good faith cooperation with the Accord Secretariat based in Amsterdam; put in place an effective and independent Safety Complaint Mechanism for workers; fully implement all existing accord policies, procedures, and practices; demonstrate progress in the rates of safety hazard remediation; and develop and implement a boiler safety program.
The witness signatories will continue to monitor and publish progress reports on the work of the RSC. If the RSC does not meet these responsibilities, the witness signatories will recommend that the Accord signatories look for another body to ensure that they can meet their contractual obligations to ensure that Bangladeshi factories are safe.