Nov 14, 2022 —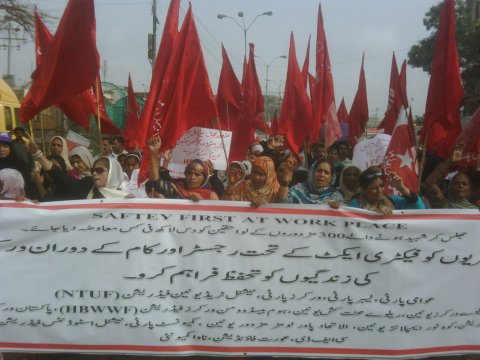 Photo: Clean Clothes Campaign
A brief launched today by the Clean Clothes Campaign (CCC) documents deadly safety incidents in Pakistan's garment industry that underline the urgent need for the International Accord for Health and Safety in the Textile and Garment Industry to be implemented in that country.
MSN is joining with other CCC member organizations and Pakistani unions in calling on international apparel brands that have not yet signed the Accord to do so immediately so that they are part of the Accord as soon as it begins operations in Pakistan and can ensure that the health and lives of the workers who make their products are protected.
A CCC factory incidents tracker lists over three dozen factory incidents which occurred in factories in Pakistan since January 2021, including deaths, blocked fire exits, and faulty electrical wiring that led to explosions and is the principle cause of factory fires. These incidents occurred in supplier factories of both Accord signatory brands and brands that have not signed the Accord, demonstrating the urgency to both expand the Accord and increase the number of signatories. Brands implicated in the incidents that have not yet signed the International Accord include Levi's, Gap and Kontoor Brands (Lee, Wrangler).
Most of the factory-level safety hazards highlighted in the brief could have been easily detected and remediated, had the legally binding International Accord already been operating in the country. The original Accord's safety program came into being in 2013 in direct response to the Rana Plaza building collapse in Bangladesh that killed 1,134 workers. One year earlier, Pakistan had experienced the deadliest garment factory fire in world history, yet no such program emerged in that country.
Ten years on, steps are finally being taken toward initiating a Pakistan safety program as part of the International Accord. However, two major hurdles remain. First, while plans to launch the program are in an advanced stage, the actual decision on when to do so has not yet been taken. Secondly, while there is consensus among stakeholders that this program cannot be an exact copy of that in Bangladesh, the parameters of the new program are still to be determined.
The CCC brief stresses the need to establish these parameters according to the criteria for scope and content outlined by Pakistani workers and their union representatives, including those expressed in 2018 and again in 2019 by the twelve Pakistani unions and NGOs in the Pakistan Accord Working Group. It also calls for the launching of the program's operations by early 2023.
To date, over 185 companies have signed the International Accord for Health and Safety in the Textile and Garment Industry, which currently only applies to Bangladesh. Labour signatories to the Accord are the Global Unions IndustriALL and UNI. MSN is one of the four Witness Signatories, along with CCC, International Labor Rights Forum-Global Labor Justice, and Worker Rights Consortium.
For more information: