Mar 2, 2023 —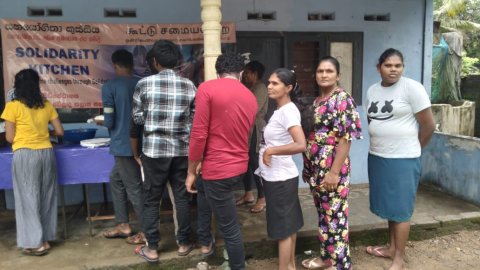 Photo: Solidarity Kitchen organised by FTZ & GSEU during the crisis.
Research published today by Clean Clothes Campaign (CCC) reveals that most garment workers in Sri Lanka have not been receiving the full Emergency Relief Allowance, which unions had called on factories to pay to help counter the devastating effects of the country's severe economic crisis.
The CCC brief, No Relief: Why clothing brands must take responsibility for worker relief payments amidst the economic crisis in Sri Lanka, calls on major brands sourcing from Sri Lanka to take responsibility for their workers' survival as well as their right to freedom of association, collective bargaining and decent work.
Sri Lanka's financial and political crisis, which started over a year ago and led to the ousting of the previous president, has put an immense burden on the country's approximately 350,000 garment workers. who prior to the crisis were only earning subsistence wages.
Instead of involving workers and their representatives in decision-making on how to resolve the situation, the new Sri Lankan government is ignoring its obligation to engage in social dialogue with unions and using draconian emergency laws to crack down on dissent.
Workers have received far less than the 10,000 LKR (US$27) Emergency Relief Allowance, and, in some cases, did not receive any additional support. In addition, any bonuses that have been paid out have been contingent on worker performance, such as perfect attendance. Calls from CCC network organizations for the major garment brands sourcing from the country to take immediate action in support of workers have received little response to date.
Anton Marcus, joint secretary of the Free Trade Zones & General Services Employees' Union, the largest union representing garment workers in the country, said: "Brands have a responsibility to the workers that enable their profits. They must ensure that the factories they source from pay their workers the 10,000 LKR Emergency Relief Allowance. If factories are not able to do so, then brands should step in and contribute financially to make it possible. The Sri Lankan garment workers have contributed to making these brands rich, the least these brands can do is to ensure their workers get through this crisis."
For more information: