Mar 21, 2023 —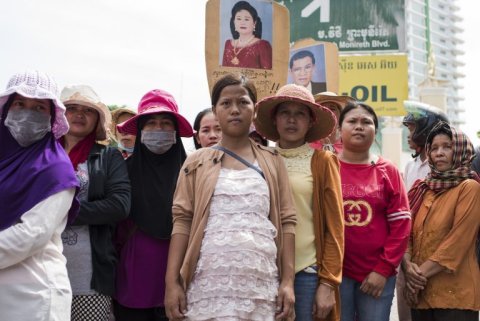 Photo: Clean Clothes Campaign
On February 14, the Canadian Network for Corporate Accountability (CNCA) published six reports that link Canadian companies to allegations of killings, torture, forced labour, arbitrary detention and intimidation, amongst other abuses.
The reports document allegations that Nygard International, Torex Gold Resources Inc., Feronia Inc., Barrick Gold Corporation, Goldcorp Canada Ltd., and numerous companies that import medical gloves from Top Glove and Supermax contributed to a range of human rights and environmental abuses, and demonstrate that if Canada had had meaningful human rights due diligence legislation in place at the time of the abuses, the alleged victims could have sought remedy.
The Nygard International case study dates back to 2016 when 208 garment workers were left unemployed when the Chung Fai Knitwear Factory in Phnom Penh, Cambodia closed without warning. The factory did not pay legally owed wages, severance or other legal entitlements to the workers. While import records and worker testimonies showed that Nygard, Canada's largest producer of women's apparel at the time, had production at the factory, the company denied any relationship with the factory and failed to assume any responsibility in ensuring the workers were paid what they were owed.
If Canada had had corporate due diligence legislation at the time of the factory closure, the garment workers in Nygard International's supply chain could have sought remedy in a Canadian court. Nygard International may have been held liable if it was proven that the company did not take adequate steps to ensure that workers in its supply chain were paid what they were legally owed and not left destitute and in debt.
As part of efforts to pass due diligence legislation, groups like Oxfam Canada, MiningWatch Canada, KAIROS Canada and the United Steelworkers (USW) have brought similar concerns about Canadian mining companies' lack of accountability abroad to the Standing Committee on International Trade of the House of Commons.
"These case studies show what you get with a decade of voluntary measures. Ultimately, corporations need to be held accountable," said Catherine Coumans, Research Coordinator for MiningWatch Canada.
"Canada has a legal and ethical duty to uphold respect for human rights everywhere," said Silvia Vasquez-Olguin, Global Partnership Coordinator at KAIROS Canada. "We need a strong law, such as Private Members bill C-262 on mandatory corporate due-diligence, that reins in abuse by Canadian-based multinationals."
Case Studies: