Oct 9, 2015 —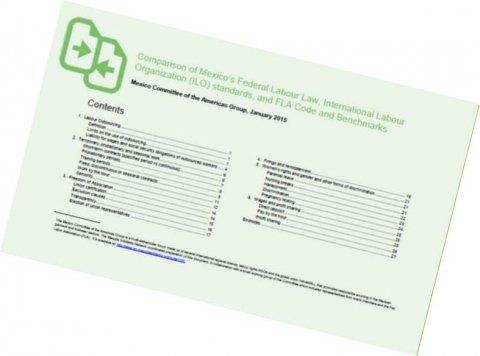 This document, prepared by MSN for the Mexico Committee of the Americas group, was designed primarily as a tool for companies sourcing apparel products from Mexico to better understand the labour standards obligations of their Mexican suppliers and the rights of workers in their supplier factories. It should also serve as a useful reference document for trade union and labour rights organizations advocating on behalf of Mexican workers.
The chart compares important changes made in Mexico's Federal Labour Law in 2012, relevant labour standards in International Labour Organization (ILO) Conventions, and provisions of the Fair Labor Association's (FLA) Code and Benchmarks. It also includes observations on which is the higher standard on particular labour rights issues, and what auditors and companies should do to assess and achieve compliance with these standards.
The Mexico Committee is a subcommittee of the multi-stakeholder Americas Group, which includes a number of major apparel brands sourcing from Mexico, as well as the FLA, the Global Union IndustriALL and MSN.