Sep 4, 2020 —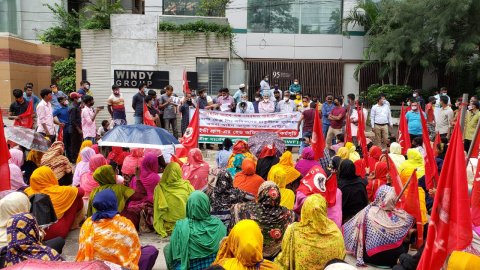 Photo: National Garment Workers Federation in Bangladesh (Clean Clothes Campaign)
We stand in solidarity with garment workers around the world to demand that global brands take immediate action to stop union busting in their supplier factories.
Today, the Clean Clothes Campaign (CCC) global network, in which MSN is an active member, is supporting IndustriALL Global Union's call for a Global Day of Action against union busting in the garment industry. The Covid-19 pandemic has provided management at garment factories around the world with an excuse to dismiss union leaders and members and close unionized factories.
On this Day of Action, we raise our voice against the practice of union busting, which affects thousands of union members all over the world. IndustriAll profiles union busting that has been carried out at Isabella Pvt Limited in Sri Lanka, Euro Clothing II of the Gokaldas group in India, Premium Apparel in Haiti and the Greenfield factory in Cambodia. Union members at these factories were dismissed under the guise of downsizing in response to the pandemic.
Unfortunately, the list of factories where this practice occurs is long. The CCC is working on several cases of discriminatory dismissals in the Windy Group in Bangladesh where thousands of workers were laid off; the Amber Stone factory in Myanmar where union leaders have been reinstated but now face charges; and the QMI factory in Cambodia where 19 union members were fired.
Fortunately, other serious cases of union busting have been resolved in the past month, through the reinstatement of union activists with backpay. These victories were made possible through the power of worker organizing – the target of the union busting -- and through international solidarity. Examples of such victories include Myan Mode, Huabo Times and Rui Ning, in Myanmar.
In a video released today, the Clean Clothes Campaign shows how widespread the issue of union busting has become during the pandemic and how it brings insecurity and poverty to union activists calling for workplace safety and defending the livelihood of their co-workers in these difficult times.
While union busting by employers during the Covid-19 crisis occurs at the workplace level, garment brands and retailers must also take responsibility as they have immense influence over their supply chains and are accountable for worker rights abuses in the factories they source from. It is therefore up to the brands and retailers sourcing from these factories, which include H&M (Gokaldas, Windy), Primark (Windy, Amber Stone), Hugo Boss (Isabella), Hanesbrands (Isabella) Puma (QMI), adidas (QMI), Ralph Lauren Corporation (QMI), Jack Wolfskin (QMI), Dunnes Stores (Greenfield), to do their part to ensure that their suppliers respect workers' union rights.
In supporting workers to resolve cases of union busting in the past months, the Clean Clothes Campaign has reached out to brands and retailers, urging them to take responsibility for the union busting taking place in their supply chains.
On this Global Day of Action, we call on H&M, Primark and all garment brands and retailers in whose supply chains union busting is taking place to determine if union busting is occurring in their supply chain, to ensure that the practice is ended and the cases resolved, and to request that all suppliers adopt and implement a policy prohibiting anti-union discrimination and apply that policy to retrenchment and re-hiring decisions, negotiated with and signed off by the factory-level union.