May 12, 2022 —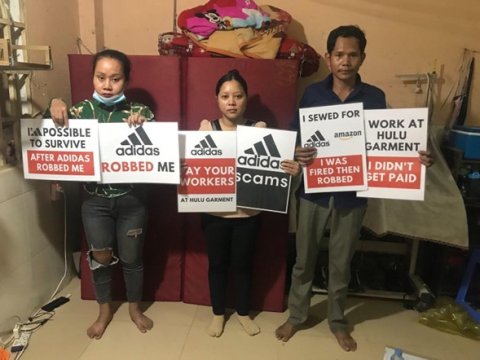 Workers call on adidas to #PayYourWorkers.
(Credit: Clean Clothes Campaign)
An estimated 30,000 workers from eight adidas suppliers in Cambodia are still waiting for back pay from March to May 2021, totaling an estimated US$11.7 million.
Nationwide in Cambodia, garment workers producing goods for adidas and other international brands were deprived of an estimated US$109 million in wages during the 2021 lockdown, according to calculations by Cambodian trade unions and the Clean Clothes Campaign. This figure is a projection based on a comprehensive assessment of 114 factories.
The Clean Clothes Campaign is calling on adidas and other brands to sign a legally binding and enforceable agreement on wages, severance pay and freedom of association to fulfil their responsibility to mitigate the pandemic's economic impact on workers in their supply chains.

Cases of wage theft and failure to pay legal severance have increased exponentially during the pandemic, but this type of labour violation is not new. The problem is systemic in the garment industry, which is built on the exploitation of workers.
Since global brands have made record profits over the past few years, their responsibility to workers is even greater. Despite the pandemic, adidas' revenue increased 15% in 2021 to US$22.35 billion. The brand also benefitted from short-term tax-funded Covid-19 aid from the German government.
Adidas and its shareholders have a responsibility to invest a significant share of the company's profits to ensure that the workers who make their products are paid their full wages and legally owed severance.

Representatives of the Clean Clothes Campaign Germany will be attending adidas' Annual General Meeting, to call on the company and its shareholders to prioritize workers' rights and ensure that workers in their supply chain are never again deprived of their full wages and severance pay in Cambodia or any other country where their products are made.
For more information: