Mar 13, 2018 —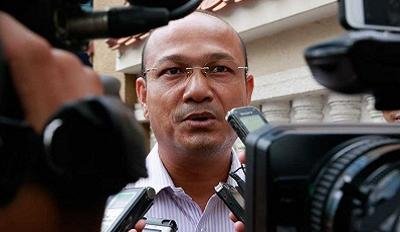 Photo: Heng Chivoan
85 national and international human and labour rights organizations and global unions from around the world have joined together to call for an end to the politically motivated prosecution of Cambodian human rights defender, Moeun Tola.
Tola is a well-known worker rights advocate and the Executive Director of the Centre for the Alliance of Human and Labour Rights (CENTRAL). He and two other leaders Pa Nguon Teang, an advocate for freedom of the press, and Venerable But Buntenh, an activist monk face trumped up charges alleging they misappropriated funds intended for the funeral of murdered government critic Kem Ley.
Members of Kem Ley's family have stated publicly that there is no basis for the allegations, since Tola and the other two charged never handled any of the funeral funds.
If convicted, Tola and the co-accused activists could face imprisonment for six months to three years and a fine of up to six million riel. Their prosecution is widely viewed as being part of a broader government-led campaign to silence independent voices in the media and shut down the main opposition political party and independent labour and human rights organizations.
The joint statement calls on the Cambodian government to respect fundamental human rights and to immediately drop the charges against Tola and his two co-defendants. It echoes a call from 35 Cambodian human rights organizations expressing concerns and calling for action.
MSN and our international counterparts have also been contacting international apparel brands that have products made in Cambodia, urging them to directly communicate their concerns about the prosecution of Tola and other human and labour rights advocates to the Cambodian government.
"If Cambodian authorities want the country to be attractive to responsible brands, they should abandon this course of targeting labor leaders and other civil society members, and drop all false criminal cases," said Aruna Kashyap, senior counsel in the women's rights division of Human Rights Watch. "Brands and international governments should demand to see such trumped up criminal cases dropped as an important sign of good faith engagement by Cambodian authorities to protect and promote labor rights in the country."
Click here for a copy of the joint public statement