Jun 20, 2022 —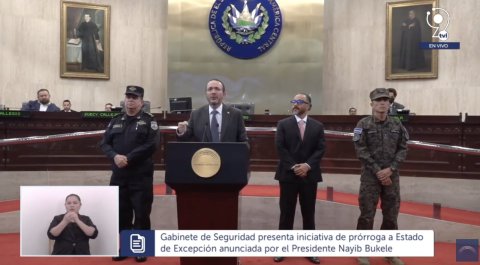 Government ministers request an extension of the state of emergency.
(Screenshot of live transmission)
A June 2 Amnesty International report finds that El Salvador's government is committing massive human rights violations under the current state of emergency, which has suspended the rights to freedom of association and assembly, privacy in communication, and legal representation, among other civil and political rights.
The state of emergency was imposed on March 27, 2022 after a surge in gang violence and homicides. Human rights groups have since documented thousands of arbitrary detentions and violations of due process, as well as torture and ill-treatment. At least 40 people have died in state custody.
Authorities have imprisoned 39,000 people accused of varying degrees of gang activity; however, rights groups and community members have raised concerns about arbitrary arrests and the targeting of people based on their appearance or where they live. Garment workers are among those that have been arbitrarily arrested at factories and hauled off to prison.
On May 17, four union members were arbitrarily detained. One of the detainees sent a WhatsApp message to his union executive indicating that, "Right now, they are transferring us to the police holding cells. They are detaining us because of the union work we are doing… We don't know exactly where they are taking us."
Because of the declared state of emergency, law enforcement is not required to present arrest warrants or provide any explanation of the charges against the detainees. The hearings before a judge are carried out with up to 500 detainees at a time, making it difficult to guarantee each person's right to defense.
Meanwhile, family and friends of those detained have been unable to get answers from authorities, at times gathering in groups outside the jails to wait for information. On May 25, hundreds of family members of detainees took to the streets to demand the immediate release of their loved ones and voice concerns about their safety. That same day, 67 of the 84 seats in the Legislative Assembly voted to extend the state of emergency for another month until the end of June.
Despite the widespread human rights concerns, the wider population appears to support the drastic measures after decades of living with extremely high levels of crime and violence. The Legislative Assembly is now considering another extension through the end of July.
The state of emergency is part of a series of recent legal maneuvers by the Nayib Bukele administration that have curbed civil rights and freedoms, including the proposed Foreign Agents Law, which has been temporarily withdrawn due to international pressure. Moreover, since the state of emergency was declared, Congress has approved changes to the Criminal Code and the Code of Criminal Procedure, increasing sentences for membership and leadership in illegal groups to 20-45 years (up from 3-9 previously), eliminating time limits for pretrial detention in gang-related cases, and reducing the age for criminal responsibility to 12 for the crime of belonging to a terrorist group or gang, among other reforms. Congress also established prison sentences of up to 15 years for journalists that report on gang-related issues.
MSN is extremely concerned with the ongoing state of emergency and the impact that it is having on the safety and human rights of workers, unions and other civil society organizations, and communities.
Read more: