Apr 12, 2016 —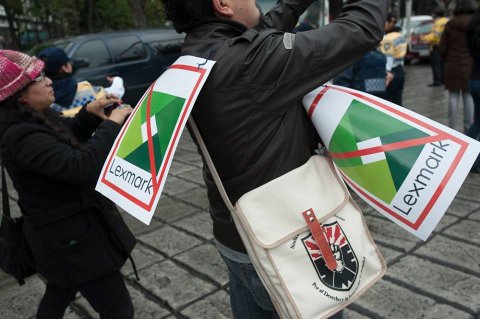 ©2016 Keith Dannemiller
On April 10, 56 workers who for over five months had been camped outside the Lexmark factory in Ciudad Juarez, Mexico after being unjustly fired, ended their protest after reaching a settlement with their former employer.
The terms of the agreement are not yet publicly available, since the US-based printing and software company demanded that the workers and their lawyer sign a confidentiality agreement before receiving the settlement.
"We attributed this change of heart by the company to a letter sent to Paul Rooke, Lexmark CEO, that was signed by 32 unions and NGOs from the US, Canada and Mexico," said Susana Prieto Terrazas, the lawyer representing the workers.
MSN was one of the signatories to the letter, which called on Lexmark to negotiate in good faith with worker representatives to resolve the workers' concerns and recognize their right to form an independent union and elect their own representatives.
In the summer and fall of 2015, hundreds of workers at Lexmark and three other factories in Juarez participated in a series of protests against low wages, sexual harassment and unsafe working conditions. In October, Lexmark fired 120 workers for taking part in the protests.
On November 3, the Lexmark workers filed a petition with the local labour board for recognition of their independent union. Their petition was rejected twice based on minor technicalities.
With the signing of the agreement, the workers have ended their fight for reinstatement and recognition of their union. However, they have announced that their struggle will continue with the creation of a workers' association called Obrer@s Maquiler@s de Ciudad Juarez.
Worker protests have also taken place in three other maquila factories in Ciudad Juarez owned by Foxconn, Commscope and Eaton Corporation. Those protests were also met with massive firings. Juarez is a major centre of maquila production for the US market, employing over 300,000 workers.
Click here for a copy of the Open Letter to Lexmark
Click here for further information on the worker rebellion in Ciudad Juarez