Sep 14, 2016 —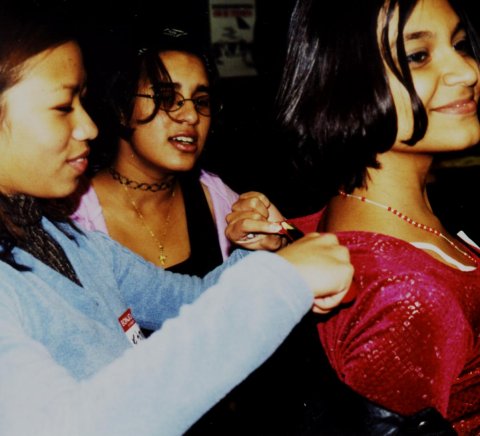 As part of our 2002 campaign for factory disclosure regulations, students cut out clothing labels and mailed them to the Canadian government
Two more major international apparel brands have joined the growing list of companies in the sector that are publicly disclosing information on their wholly-owned and supplier factories around the world.
On September 6, VF Corp released the names and country locations of all its wholly-owned and first-tier supplier factories. However, the list does not include the actual addresses of the factories. The VF Corp factory list can be found here.
One day later, Gap Inc. released its global list of supplier factories, including the names and addresses of each factory. The Gap factory list can be accessed here.
Since 2001, MSN and our coalition partners have been calling on apparel brands to publicly disclose the names and addresses of all the factories where their products are made. At that time Canadian retailers vehemently opposed factory disclosure, whether voluntary or through government regulation, arguing that factory locations were proprietary information.
During the next decade, pressure for supply chain transparency increased with the adoption of ethical licensing policies by hundreds of universities in the US and Canada, as well as some municipal purchasing policies, most of which required public disclosure of factories producing for those institutions.
As a result of these campaigns and the realization by many companies that factory disclosure has had more positive than negative reputational impacts, a growing number of companies are now disclosing their factory lists.
With greater supply-chain transparency, MSN and other labour rights organizations are able to quickly identify brand buyers sourcing from a factory where worker rights violations are taking place and to bring those violations to the attention of those brands.
However, only two Canadian retailers have done so to date, the Hudson's Bay Company, which has disclosed those factories where suppliers have agreed to be on its list, and Mountain Equipment Co-op, which discloses all of its supplier factories.
Apparel companies that have disclosed partial or total information on locations of their supplier factory include: Adidas, C&A, Columbia, Disney, Gap, H&M, Hudson's Bay Company, Levi's, Marks and Spencer, Mountain Equipment Co-op, New Balance, Nike, Patagonia, Puma, Target, and VF Corp.