Jul 24, 2023 —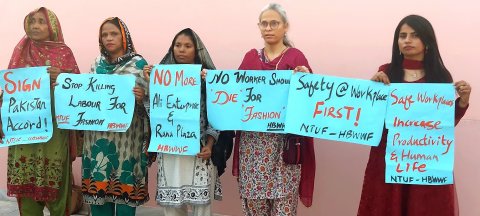 Photo: HBWWF, NTUF
Gap Inc., owner of Athleta, Banana Republic, Gap and Old Navy brands, has become the 65th company to sign the Pakistan Health and Safety Accord, but other major North American brands and retailers whose products are made in Pakistan have been slow to commit to this life-saving initiative.
As of July 16, global apparel brands sourcing from Pakistan have had six months to sign onto the Pakistan Accord, which is poised to bring meaningful health and safety improvements for workers in Pakistan as the International Accord has done in Bangladesh.
Major US companies that have yet to sign the Pakistan Accord include Levi's, Target and Urban Outfitters.
Garment workers in Pakistan continue to wait for much needed improvements to factory safety. As the Accord program has just completed its pilot safety assessments stage, it has been slow to begin its full operations. Numerous deadly factory incidents have highlighted the urgent need to better protect workers.
Major brands, including Levi's, Ikea, Amazon and other companies in the "Dirty Dozen" targeted by the Clean Clothes Campaign / Eko petition, are still missing from the list of signatories to both the International and Pakistan accords.
"We need all brands with production in Pakistan to sign the Accord as soon as possible, but also brands that signed cannot sit back and relax," said Nasir Mansoor, Secretary General of the National Trade Union Federation in Pakistan. "Only once inspections begin and workers can hand in complaints, will the risk of the next factory fire or collapse actually start to lower."
For more information: