Feb 4, 2022 —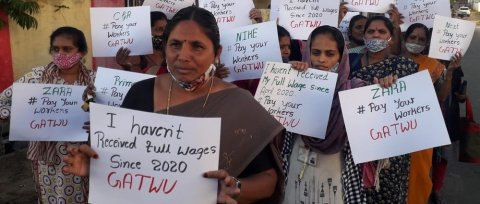 Photo: #PayYourWorkers
Over 400,000 garment workers in the garment hub of Karnataka in India have not been paid the state's legal minimum wage since April 2020. The Worker Rights Consortium calls this the "worst wage theft" ever seen in the global garment industry, with the estimated total amount of unpaid wages exceeding US$58 million. With each month that goes by, the amount owed to the workers will continue to accumulate by more than $2 million.
Back in April, 2020 India increased its "variable dearness allowance" (VDA), a mandatory cost-of-living increase which supplements the legal minimum wage. Garment factories, however, have refused to pay it.
Supplier Shahi Exports, one of India's largest garment producers, owes more than $10 million to workers making clothes for brands like Walmart, Nike, and H&M. While the factory has indicated that it will pay workers what they are legally owed by May of this year, it remains to be seen if other factories will follow suit and what the brands whose clothing are made at those factories will do to ensure workers get paid.
The Worker Rights Consortium is tracking the brands that are complicit in this wage theft including Abercrombie & Fitch, adidas, Marks & Spencer, Nike, Primark, Target, Puma, C&A, and Uniqlo. This large-scale wage theft exemplifies the inequalities in the garment industry. In pursuit of maximizing profits, brands brazenly enable suppliers to violate not only their own codes of conduct but also local labour laws, while garment workers have little access to remedy or justice.
For more information: