Jun 28, 2023 —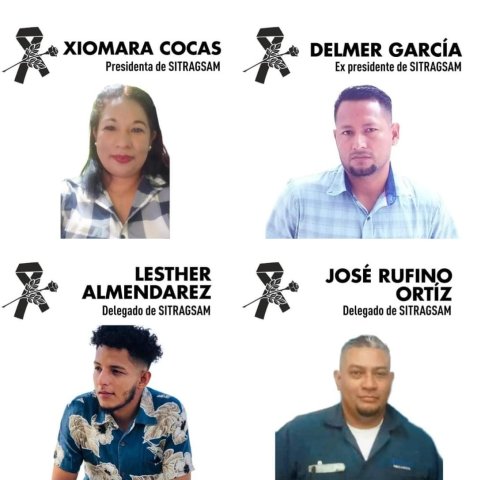 The Maquila Solidarity Network (MSN) joins with Honduran and international trade union and labour rights organizations in condemning the June 24 massacre in Choloma, Cortés, Honduras that left 13 people dead, including four union leaders from the Sindicato de Trabajadores de la Empresa Gildan San Miguel (SITRAGSAM). The union leaders were Xiomara Beatriz Cocas, president of SITRAGSAM, and union delegates Delmer Josué García (former SITRAGSAM president), José Rufino Ortiz, and Lester Arnulfo Almendarez. Beatriz Cocas' son, Eduardo Alexander Meléndez, was also murdered in the massacre.
The attack took place the same week Gildan announced the closure of its San Miguel factory, which employs 2,700 workers. The union was involved in discussions with Gildan management to ensure respect for the rights of those workers affected by the closure.
MSN expresses our profound condolences to the families of the victims and to all the members of SITRAGSAM and the CGT, the union confederation to which it is affiliated. MSN has worked closely for many years with the CGT and its affiliates.
We call on the Honduran government to carry out an immediate and thorough investigation of the crime and to bring those responsible to justice. We also urge the government to ensure the safety and human rights of the maquila workers and others living in Choloma are fully respected as it implements its recently announced 'security plan' to address the rising violence in the Valle de Sula region.
We join with Honduran unions and their international supporters in calling on Gildan Activewear to take strong measures to ensure the safety and security of all of its workers at their Honduras facilities, to offer support to the families of those murdered, and to provide job opportunities and generous compensation to all San Miguel workers who will be affected by the closure.