Jan 17, 2020 —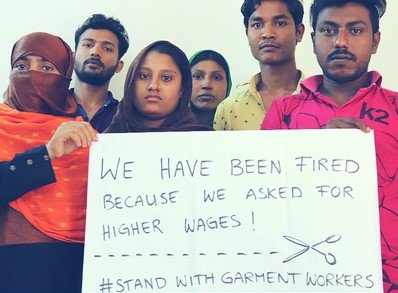 Photo: Clean Clothes Campaign
Over a year has passed since tens of thousands of garment workers took to the streets at the end of December 2018 and January 2019, to protest the Bangladeshi government's failure to set a decent minimum wage that would meet their basic needs.
In addition to the violent government repression that left one worker dead and over 50 injured, thousands of workers were prevented from returning to work at factories producing for major international brands. Employers retaliated against workers for their involvement in the peaceful protests by filing criminal charges and blacklisting them from obtaining work in other factories.
While many of the criminal cases have been dropped, hundreds of workers still face charges and remain without work.