Sep 22, 2021 —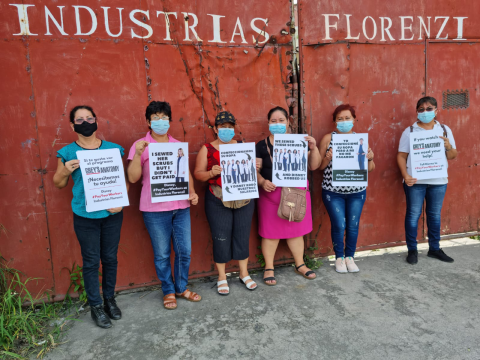 In El Salvador, workers at the Industrias Florenzi factory sewed Grey's Anatomy scrubs for more than 15 years. At the start of the pandemic, the Salvadoran government ordered nonessential businesses to temporarily shut down operations and the Industrias Florenzi factory began laying off workers. In July 2020, Industrias Florenzi closed permanently. More than a year later, the workers are still waiting for the $1.3 million in unpaid wages and severance they're owed under Salvadoran law.
Even before the factory closed, the workers were robbed. The company deducted money from paychecks for government social security programs as required by law, but then pocketed that money.
The workers have been protesting for months to demand their unpaid wages and severance. In early 2021, desperate for funds to support their families, workers went on a hunger strike for seven weeks.
The Industrias Florenzi workers and allies demand that Disney, which owns Grey's Anatomy, and its vendor, Barco Uniforms, ensure the workers who made their product receive the $1.3 million they are owed.
Read more and take action: