Jun 5, 2018 —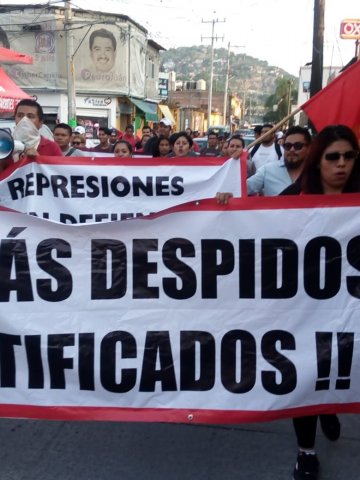 More than 50 workers at the Rintex garment factory in the Mexican state of Morelos who were attempting to organize an independent union have been fired. The current union at the factory is affiliated with the CROC, a corrupt "official union" linked to the ruling PRI party. That union had signed an "employer protection contract" with Rintex management without the knowledge or consent of the workers. The agreement provides workers little more than they are entitled to by law.
After hearing about the latest round of firings of 21 workers, on May 29, approximately 40 Rintex workers gathered in the patio to discuss the situation and request more information from management. Management responded by calling in security personnel who physically prevented the workers from returning to their work stations or from accessing food.
When the workers invited the company to negotiate a solution to the conflict with their chosen representative, the Authentic Labour Front (FAT), they were told by the Director of Personnel that Rintex has a union and it is the only union. She also stated that the factory could be closed down.
Workers report that other senior management personnel have also made similar threatening statements. On May 23 and 24, all the workers were called into meetings with senior management where they were told that there were about 20-50 workers who were continuing to cause trouble at the factory and were "bad seeds" who were contaminating everything including causing two brands to leave – Polo Ralph Lauren and Converse (owned by Nike). The assembled workers were invited to report these "troublemakers" to Human Resources, or to talk to them directly to persuade them to resign. The workers were also told that these "troublemakers" continue to invite people to form another union, but "the union we have is good and we won't permit another one." The workers were reminded that their families depend on their ongoing employment for their food.
The members of the Independent Coalition of Rintex Workers are demanding that Rintex:
Immediately reinstate all workers unjustly fired since May 21, 2018;
Cease any further threats and dismissals until an independent investigation of the firings and other alleged worker rights violations is completed;
Enter into negotiations to find a solution to this conflict with the Coalition's chosen representatives;
Ensure that there are no acts of violence, harassment or discrimination against Rintex workers for supporting the Worker Coalition and/or an independent union; and
Make a public commitment to respect the right of all workers employed at the factory to join or form a union or other worker organization of their free choice and to bargain collectively without management interference or retaliation.
In response to pressure from Gap, Rintex had previously agreed to cooperate with an independent investigation of outstanding issues at the factory. At Gap's request, an investigation of the recent firings is now in progress. Gap is the only international buyer that remains at the factory. Other brand buyers, including Nike and Polo Ralph Lauren, had left the factory over a year ago rather than join with Gap in demanding corrective action.
Several Mexican and international unions and labour rights organizations have communicated their alarm at the unjust dismissals of workers, including the Global Union IndustriALL, United Steelworkers (USW), Clean Clothes Campaign, and International Labor Rights Forum.