Nov 22, 2017 —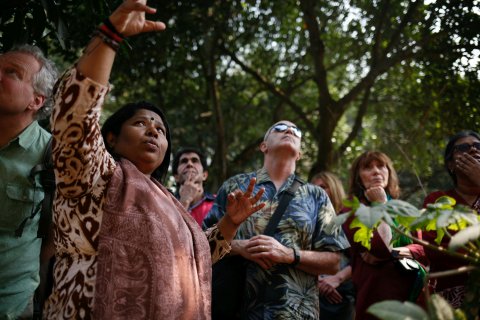 Canadian union delegation to Bangladesh with Kalpona Akter from the Bangladesh Centre for Worker Solidarity (BCWS) looking up at the remains of the Tazreen building (2016)
On the 5th anniversary of the Tazreen factory fire, MSN joins with our colleagues in the Clean Clothes Campaign (CCC) in calling for a bridging solution until Employment Injury Insurance is available to all workers in the Bangladesh garment industry.
Five years ago today, the Tazreen Fashions factory in Bangladesh went up in flames. Over 112 workers died, trapped in their workplace. Many more sustained life-long injuries. On this day, our thoughts are with the survivors and the families of those who died in this preventable tragedy.
Those affected by the fire had to fight long and hard for compensation. More than two years after the fire, an agreement was finally reached with international apparel company C&A to establish a fund with contributions from brands sourcing from the factory, which would provide for loss of income payments and long-term medical treatment. The payments were concluded in June 2016, and a medical trust continues to oversee long-term medical treatment for the injured.
Five years since the Tazreen fire, and after the occurrence of several other factory tragedies, the question remains as to whether and when workers and families affected by such incidents in Bangladesh will receive just compensation for injuries and loss of income. Despite the regular occurrence of factory-related incidents involving injuries and deaths requiring compensation, no permanent solution for compensation has yet to be developed. Instead, full and fair compensation is generally achieved only after a long struggle by workers, their representatives and international allies. For many incidents that take place in small factories, affected families and survivors receive no compensation at all.
Based on the ILO's Employment Injury Benefits Convention (C121), compensation arrangements set up after the Tazreen factory fire and the 2013 Rana Plaza collapse laid the groundwork for a more institutionalized and permanent solution in the form of a National Employment Injury Insurance Scheme for the Bangladesh Ready-made Garment Sector. That scheme, however, is still in its preliminary stages of development, ultimately leaving affected families and survivors faced with the same uncertainty as in the pre-Tazreen and Rana Plaza era.
MSN and our colleagues at the Clean Clothes Campaign are therefore calling for a bridging solution to be established as soon as possible to cover those affected by factory incidents until the Employment Injury Insurance Scheme is operational.
While the struggle for compensation for loss of income is over for those affected by the Tazreen fire, their struggle for justice continues. To date, Delwar Hossain, the owner of Tazreen Fashions, has not been held to account for his negligence that directly contributed to the injuries and deaths of these workers.
Today, we commemorate the workers who died and were injured on November 24, 2012 and we pledge our continued solidarity with the affected families and survivors. Our thoughts are also with all those workers killed in factory-related incidents since the Tazreen fire, and we will continue to advocate for the creation and implementation of proper compensation mechanisms for all workers in the Bangladeshi garment industry.