Sep 13, 2019 —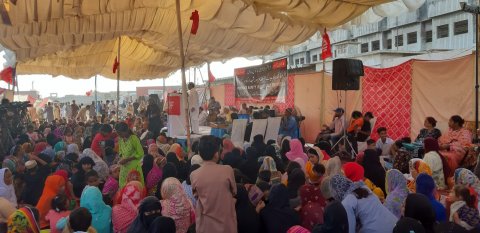 Photo: IndustriALL
On September 11, 2012, a fire ripped through the Ali Enterprises garment factory in Karachi, Pakistan, killing more than 250 workers, who were unable to escape the building because the exit doors were locked and windows barred. A new report released on the 7th anniversary of the fire warns that garment factories in Pakistan remain just as unsafe today as they were then.
The report, Pakistan's Garment Workers Need a Safety Accord, published by the Clean Clothes Campaign, International Labor Rights Forum, Labour Education Foundation, National Trade Union Federation, and Pakistan Institute of Labour Education and Research, provides an overview of the international initiatives set up following the Ali Enterprises fire, highlighting the limited transparency, lack of enforceability, and the overall inability of these initiatives to adequately protect workers' safety. Since the 2012 fire, over 120 workers have died in Pakistani factories, more than 50 of which worked in garment, textile or shoe factories.
The report recommends that brands and retailers sourcing from Pakistan respond to the call from unions and labour education organizations to implement a transparent, and legally-binding agreement modeled on the Accord on Fire and Building Safety in Bangladesh that ensures participation of unions and labour groups in both conceptualization, design, governance, and implementation.
The report also recommends that Pakistan's national and provincial governments take a series of additional steps to improve factory compliance in factories not covered by a future Pakistan Accord, in addition to passing the national Occupational Safety and Health law.
Finally, the report states that governments where major garment brands and retailers are headquartered must establish mandatory human rights due diligence legislation to enforce supply chain accountability, and that social auditing firms must be held liable for audits that fail to identify health and safety risks that have deadly consequences.