Sep 30, 2021 —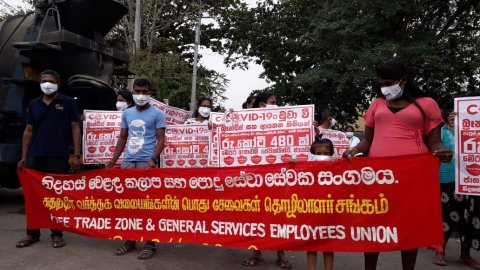 A March 2021 action for workers rights in Sri Lanka.
Photo credit: Clean Clothes Campaign
The spread of the Delta variant in South Asia is causing a surge of severe illness and death in Sri Lanka and Bangladesh.
Due to the economic importance of the garment industry, the governments of both countries have excluded garment workers from lockdown measures by categorizing them as essential workers. Workers must report to work in crowded factories where the virus can spread easily or lose income they desperately need.
Governments, local factory managers, and international apparel brands have failed to provide workers with adequate health and safety protections and income security.
A letter signed by over 50 union and labour rights organizations, including MSN, calls on governments, employers, and international brands to take urgent action to:
Include the garment industry in pandemic lockdowns;
Extend lead times on orders during lockdowns;
Expand vaccination and testing for garment workers who are being recalled to work;
Comply with ILO safety and health protection standards;
Ensure that workers who are forced to miss work due to restrictions or illness continue to receive their full wage; and
Allow workers to refuse unsafe work.
The letter is available here.
For more information: