Sep 12, 2022 —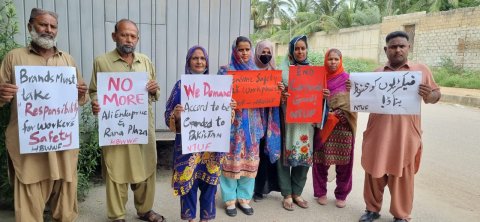 Photo: HBWWF and NTUF call for the expansion of the Accord.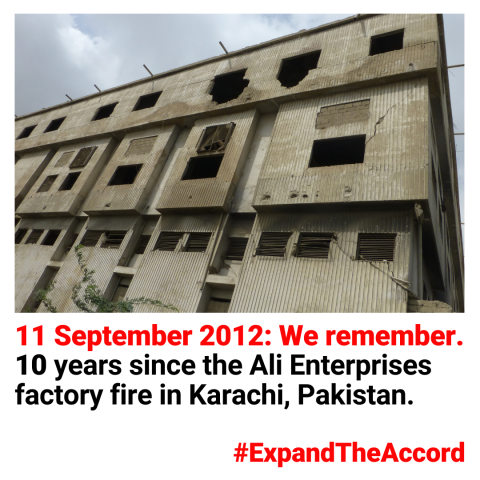 Photo: Clean Clothes Campaign
September 11, 2022, marked the 10th anniversary of the catastrophic Ali Enterprises fire in Baldia, Karachi, where more than 250 garment workers lost their lives and over 50 were injured.
Ten years after this preventable disaster, MSN joins Pakistani garment unions and the Clean Clothes Campaign in remembering the lives lost and calling for the lifesaving International Accord for Health and Safety in the Textile and Garment Industry to be extended to Pakistan without further delay.
The legally binding Accord was established following the deadly 2013 Rana Plaza collapse and has been instrumental in ensuring workers' safety in Bangladesh. To date, there has been no firm commitment or timeline from the Accord's brand signatories to expand this important, legally binding agreement to Pakistan, even though there have been lengthy discussions about doing so.
A recently published report by the Clean Clothes Campaign and Wales Institute of Social and Economic Research and Data (WISERD) at Cardiff University demonstrates the need for an independent and legally binding safety agreement in Pakistan. The report documents recent fire and building safety incidents and ongoing hazards in garment producing factories, including blocked exits, exposure to electrical discharge and other harmful substances, fires and explosions. The majority of Pakistani workers surveyed also reported the absence of fire-rated stairwells and exits.
Saeeda Khatoon from the Ali Enterprises Factory Fire Affectees' Association states, "In the past 18 months alone there have been over 30 serious safety incidents in garment and textile factories in Pakistan. Over a dozen people have died and more have been injured. These incidents could have been prevented and lives could have been saved…"
The Ali Enterprises fire is just one example of how industry-led initiatives and self-audits have failed to protect workers. Well-known social audit company Rina Associates certified the Ali Enterprises factory as 'safe' a few weeks before the devastating fire.
The expansion of the Accord to Pakistan could ensure credible, independent inspections, remediation, safety trainings, and a complaint mechanism to keep workers safe.
"Workers deserve to feel safe and protected when going to work and it's the responsibility of brands to ensure this as they are the ones profiting," says Nasir Mansoor, General Secretary of the National Trade Union Federation in Pakistan.
For more information: