Oct 30, 2019 —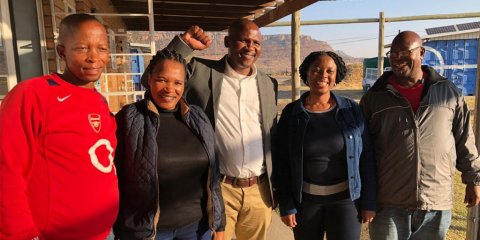 Photo: Workers Rights Consortium Sam Mokhele, General Secretary, NACTWU; Thusoana Ntlama, Program Coordinator, FIDA; May Rathakane, Deputy General Secretary, IDUL; Libakiso Matlho, National Director, WLSA; Daniel Maraisane, Deputy General Secretary, UNITE
On August 15, 2019, a number of complementary, legally binding agreements were signed to launch a pilot program aimed at eliminating sexual harassment and gender-based violence in five major garment and textile factories in the Southern African country of Lesotho.
A Worker Rights Consortium (WRC) investigative report had identified numerous cases of sexual harassment and gender based violence at three factories owned by major Taiwanese manufacturer, Nien Hsing Textile.
-In response to the report, Nien Hsing agreed to enter into negotiations that produced the precedent-setting agreements involving five Lesotho trade union and women's organizations, Levi Strauss & Co., The Children's Place, and Kontoor Brands - the three major apparel companies that source from Nien Hsing Textile factories - and the WRC, Solidarity Center and Workers United.
One important achievement of the agreements is the establishment of the Office for the Prevention and Elimination of Gender-Based Violence and Harassment, an independent body with the authority to receive and investigate worker complaints of abuses, and to direct factory management to impose penalties on offenders, up to and including dismissal, if the allegations are verified. The office will be run by the Federation of Women Lawyers in Lesotho (FIDA) and the Women and Law in Southern Africa Research and Education Trust - Lesotho (WLSA). If Nien Hsing fails to meet its commitments under the agreements, each of the signatory brands will be legally obligated to reduce their orders to the supplier to a degree sufficient to incentivize Nien Hsing to comply. Any disagreements between the parties to the agreements will be resolved through binding arbitration.
The agreements also protect workers and their unions from retaliatory action by management for filing complaints, and give access to the factories for the unions and women's organizations to provide training to workers on gender-based violence.