Apr 24, 2017 —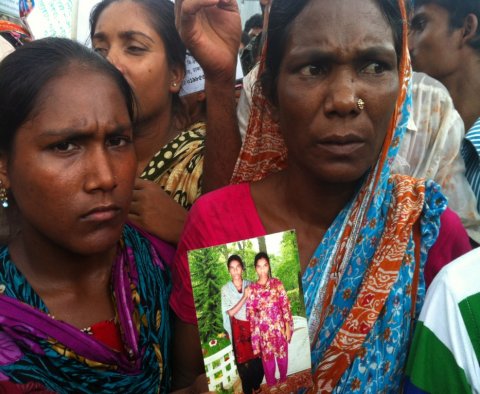 Three Important Assessment Reports Released
On this, the fourth anniversary of the Rana Plaza tragedy, our thoughts are with the families of the 1,138 workers who were killed and more than 2,000 survivors who suffered serious physical and psychological injuries as a result of the building collapse.
What has changed for Bangladeshi garment workers?
When the eight-story building housing five garment factories collapsed, many declared it a wakeup call for the global garment industry. Four years later, some improvements in factory safety have been achieved, but sadly many things have not improved for Bangladeshi garment workers.
MSN played an active role in the two-year global campaign that compelled brands and retailers to contribute a total of US$30 million to the Rana Plaza Donor Trust Fund.
This hard-fought campaign was successful in winning financial compensation and medical assistance for the grieving families and the injured and often unemployed survivors.
As one of the four witness signatories to the Accord on Fire and Building Safety in Bangladesh, MSN also worked with our labour and NGO partners to support the effective implementation of the Accord's independent factory inspection program, complaints process, and worker health and safety training program.
While there have been improvements in factory safety since Rana Plaza, during the same period workers have experienced a decline in their real wages, as well as massive repression when they have attempted to organize for wage improvements. In December 2016, employers and the government responded to a worker strike for decent wages by arresting dozens of union leaders, closing union offices, and dismissing over 1,500 workers.
Once again, a global campaign was mobilized which involved Bangladeshi unions, the global unions IndustriALL and UNI, and international labour rights organizations, including MSN. While that campaign has been successful in winning the release of imprisoned union leaders and the reopening of union offices, the charges against them have not yet been dropped, and efforts to win the reinstatement and back pay for the fired workers are ongoing.
New Reports
Timed to coincide with the Rana Plaza anniversary Accord witness signatories – Clean Clothes Campaign, International Labor Rights Forum, Worker Rights Consortium and MSN – released:
A Progress Report on the achievements of and challenges faced by the Accord, which also includes a series of proposals on how the Accord program could be enhanced as discussions continue on a possible second stage of the Accord beyond its original five-year mandate. Click here
An Update on the Labour Rights Crisis in Bangladesh. Click here
Our colleagues at the Clean Clothes Campaign have published an assessment of what has been achieved since the Rana Plaza disaster and what remains to be done. Click here.