Mar 7, 2022 —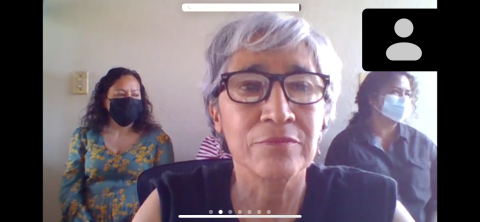 Photo: Sara Montes Ramirez from Colectivo Raíz Aguascalientes (CRA - RedDLUM)
On March 5, the women members of the Network of United Labour Rights Defenders in the Maquila (RedDLUM) held their first public event in Mexico, in honour of International Women's Day. The online event, "Updating Women's Rights at Work" provided a platform for women who work, or have worked, in clothing and auto parts factories to discuss their working conditions in the context of the 2019 reform to the Federal Labour Law.
The women shared their testimonies about the labour rights violations they have experienced or witnessed. They described earning as little as MXN$218/day (CAD$13 /day) for producing thousands of high-quality products a week for international fashion brands, while experiencing sexual harassment and gender-based violence, bullying and intimidation, unilateral changes in the terms and conditions of work, loss of years of seniority rights, union complicity with employers, and firings for advancing democratic representation in the workplace.
The personal experiences shared by the workers illustrated arguments made by feminist lawyer and researcher Dr. Aleida Hernández Cervantes, that while the labour law reform advances women workers' rights, much remains to be done to ensure that they can enjoy those rights.
During her presentation, Aleida reminded listeners from Mexico, Canada, and Central America, that only when labour law is enforced by the authorities and respected by employers and unions, will women workers gain equal access to pay, social protections, leadership positions, and workplaces that are free of discrimination and violence. She also reminded us, that for this to happen, women workers must continue to empower themselves with information about their rights, and rise up to defend them.
Following an homage to Blanca Velázquez Díaz and Reyna Ramírez Sánchez, founding President and Vice President of RedDLUM respectively (see video below), the forum concluded with the adoption of a declaration signed by all members of the network calling on women workers to unite their voices and take concerted action to advance their rights at work. It also urged the Mexican government, employers and unions in the maquila sector, to spread awareness of and abide by their new obligations to women workers, as laid out in the reformed Federal Labour Law.
RedDLUM was founded in 2019 by the Comité Fronterizo de Obreras (CFO), Colectivo Raiz de Aguascalientes (CRA), the Worker Support Centre (CAT) and the Collective of Rebellious Women Workers (COI). In 2021, the Coalition of Former Workers and Workers of the National Electronics Industry (CETIEN) joined RedDLUM. Its current priorities include advancing gender equality and eradicating gender- based violence in the workplace. The network is open to all other women-led grassroots labour rights organizations in Mexico to join. MSN has worked closely with RedDLUM and its members for over 20 years.