Aug 9, 2018 —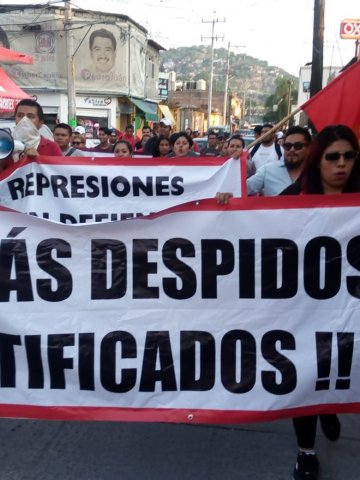 Senior management at Rintex, a garment factory in Mexico's State of Morelos, are blaming workers that attempted to organize for better working conditions for the decision of its major buyer, Gap Inc., to end its business relationship with the factory.
However, according to reports MSN has received from Gap, it had no other alternative but to end its business relationship with Rintex, which it will do over the next six months, because of the supplier's persistent refusal over a two year period to take adequate corrective action to remediate serious worker rights violations.
The most recent violations, which were identified by an independent social auditing organization, included discrimination when dismissing employees, withholding legally mandated profit-sharing payments to pressure employees to accept dismissals and sign for severance pay, and discrimination against and interference with the right of workers to freely associate, including terminating workers who were attempting to exercise that right.
At the urging of MSN, the Mexican Worker Support Centre (CAT), and workers that had been attempting to organize at the factory, Gap had stayed in the factory over the two-year period in an attempt to use its leverage to help remediate persistent worker rights violations. According to Gap, "terminating a business relationship is always a last resort in cases where a supplier persistently falls short of complying with the Gap Code of Vendor Conduct."
In late May 2018, just before annual profit-sharing bonuses was to be paid, Rintex fired over 50 workers, all of whom were either leading worker organizing efforts or had become members of a local section of an independent union affiliate of the Authentic Labour Front (FAT). By the end of June, under considerable economic duress all fired workers had accepted severance payments and dismantled their protest camp in front of the factory.
MSN has received reports that Rintex pressured the remaining workers to sign a letter condemning the Coalition members and independent union supporters and expressing their support for the existing union at the factory that had signed a "protection contract" with the employer that offers workers little more than they are entitled to by law. MSN received a copy of that letter from another buyer.
Rintex is reportedly also threatening to close the factory and urging any workers that supported the organizing effort to make themselves known and stop causing trouble.
As we continue to monitor the situation, the focus of MSN and our Mexican allies CAT and FAT has now shifted to attempting to ensure that the unjustly fired workers receive full legal severance and other benefits owing.