Oct 18, 2021 —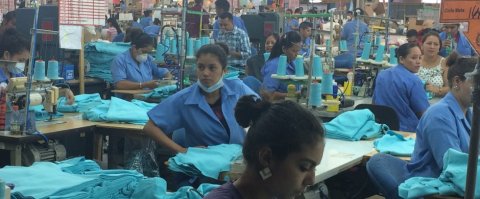 Photo: Garment workers in Honduras. Solidarity Center.
In September 2021, the El Salvador-based Labour Research Team (Equipo de Investigaciónes Laborales - EIL) published its annual report comparing the cost of basic food items with the monthly minimum wages for maquila workers in Central America's four garment-producing countries - Guatemala, El Salvador, Honduras and Nicaragua.
The 28-page report documents the enormous gap that continues to exist between garment workers' minimum wages and the cost of basic food items. Only in El Salvador does the minimum wage exceed the cost of a basic food basket.
All four countries' minimum wages for the sector fall below the poverty line – including in Honduras and Nicaragua, the two countries in the region with the highest levels of union representation, and where unions participate in bi- and tri-partite minimum wage negotiations.
The report also highlights the region's continued importance to the U.S. import market – with Honduras and El Salvador rating among the top 10 garment and textile exporting countries to the US market. The 2021 report builds on EIL's previous wage reports, which track the key economic and political conditions affecting the lives of garment and textile workers in the region. These conditions often stand as barriers to the internationally recognized human right to a living wage.
The December 2020 report revealed how COVID-19 had further exacerbated the conditions of poverty of garment workers in the region. For Nicaragua and Honduras, the two countries with functioning tri-partite minimum wage negotiations, and the two hardest hit by the November 2020 hurricanes, the situation at the height of the pandemic was considered dire.

The 2019 report raised important concerns about the relationship between how production targets and bonuses are established and ongoing low wages in the sector. It also provided important contextual analysis about the different mechanisms for carrying out scheduled minimum wage adjustments in each country, highlighting the actions and reactions of a variety of actors, including government, industry, women's organizations and trade unions.

Co-authored with MSN, the 2018 report analyzed the gap between both Central American and Asian workers' wages and the cost of living. MSN's section of the report described worker struggles for increases in the minimum wage in Asian countries, and international campaigns and initiatives for living wages for garment workers.
EIL is a Salvadoran labour rights organization with a regional perspective that carries out research on labour rights issues in the maquila sector and in other industries operating under laws governing the free trade zones. It supports union organizing efforts in the maquila industry and free trade zones.
All reports are available in Spanish only: September 2021 | December 2020 | January 2019 | September 2018