Jan 26, 2016 —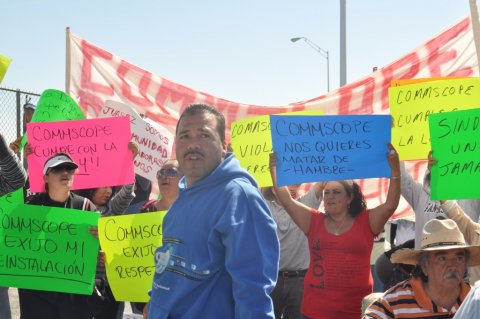 Photo: Elizabeth Flores from Pastoral Obrera
A worker rebellion in electronics maquila factories in Ciudad Juarez, Mexico is putting to the test the Mexican government's promise to introduce reforms to better ensure workers' right to be represented by a union of their free choice.
Beginning in August 2015, workers began to organize protests against poverty wages, sexual harassment by supervisors, and inadequate health and safety protections. The movement soon spread to include workers at four electronics factories owned by major foreign investors – Foxconn, Lexmark, CommScope, and Eaton.
The owners responded to the protests and work stoppages by firing hundreds of workers, and the workers filed appeals to the Local Conciliation and Arbitration Board for reinstatement and applications to be represented by independent unions.
To date the Board has failed to order any reinstatements of the unjustly fired workers and has rejected union applications on highly questionable and very technical grounds.
In January 2015, the fired workers have continued to stage protests in Juarez, and solidarity demonstrations have been organized in Mexico City, El Paso, Texas (across the border from Juarez), and Lexington, Kentucky, the home of Lexmark.
Read More:
AFL-CIO statement on worker protests in Juarez
Worker protests and solidarity actions continue into 2016
More on the worker rebellion and how the companies are responding