Jun 12, 2019 —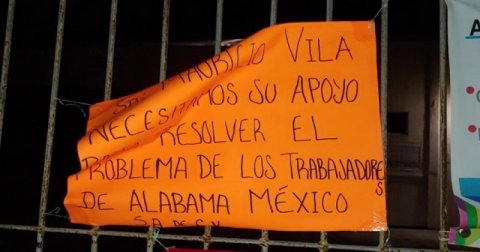 Foto: Eduardo Lliteras
On May 28, 70 workers who lost their jobs when their employer closed the Alabama Mexico garment factory five months earlier finally received severance pay, but, according to a local journalist contacted by MSN, only 40% of what they were legally owed.
The workers had been camped outside the abandoned factory since December 2018 to prevent the company from removing machinery and other equipment that could be sold to compensate them for the severance and other monetary benefits and back pay owing.
Other former employees of the company had reportedly accepted partial severance payments at an earlier date and had sought employment elsewhere. The protesting workers had more years of seniority and were therefore entitled to higher severance.
Alabama Mexico was formerly owned by the Montreal-based Alabama Cotton Company, which according to a former co-owner, Howard Lapkovsky, went out of business in 2009.
However, according to shipping records obtained by MSN, two other Montreal-based companies, Coalision Inc and Lamour International, imported products from the factory in both 2016 and 2017. Coalision owns and distributes Lolë brand activewear products and has retail stores in Canada, the US and Europe.
MSN has been calling on those companies to ensure that the workers received their full legal severance and other monies owing.