Apr 22, 2020 —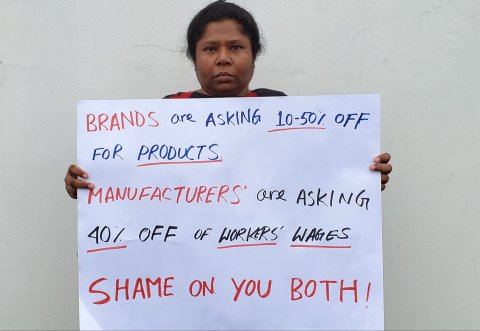 Image: Kalpona Akter, Bangladesh Centre for Worker Solidarity
On April 22, the International Organization of Employers (IOE), International Trade Union Confederation (ITUC) and Global Unions announced a joint call to action by garment industry employer and worker organizations, major garment brands and retailers aimed at mitigating the catastrophic impact that the Covid-19 pandemic is having on the heath and livelihoods of workers in the global garment industry. COVID-19: Action in the Global Garment Industry sets out urgent priorities and includes some general commitments from brands and retailers.
The Clean Clothes Campaign (CCC) global network, in which MSN is an active participant, welcomes this positive step toward addressing the global crisis. At the same time, we recognize that the Call to Action still lacks a clear plan with time-bound commitments.
The responsibility now rests with the brands and retailers that have endorsed the initiatve to move quickly to agree on a comprehensive program of action for implementing the principles in the April 22 statement, including:
pay suppliers on time, and in full, for all orders completed or in production;
work with all parties to ensure swift mobilization of public resources from international bodies and national governments to provide direct income support to garment workers that is sustained through the duration of this crisis.
Funds mobilized through this joint effort must be used to deliver support to all garment workers, regardless of job classification, contractual status, or migration status; to maintain workers' normal income for the duration of the crisis; and to strengthen social protection schemes.
For decades, brands and retailers have prioritized cost reduction and profit maximization over living wages and workplace health & safety, leading to dramatic inequalities through the global garment and footwear supply chains. The Covid-19 crisis has exacerbated those inequalities, leaving workers with little to no social or economic protection. To ensure that workers are never again left so unprotected, brands and retailers must negotiate and sign enforceable agreements with trade union organizations that obligate them to pay higher prices for products to ensure the payment of living wages and increased social protections for workers.
Labour rights organizations in the CCC will be monitoring whether brands and retailers have committed to pay in full for orders and whether those companies are keeping their commitments. We will also be monitoring and reporting on whether suppliers are paying workers their regular wages during temporary shutdowns and whether rescue funds made available are reaching workers.
To read the April 22 Call to Action, including the list of endorsing organizations, click here
For a full list of CCC demands on brands, retailers and governments, click here