Apr 18, 2018 —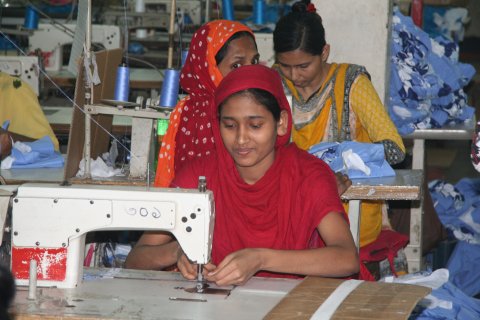 One week before the fifth anniversary of the Rana Plaza disaster, Global Unions and NGO witness signatories to the Bangladesh Accord on Fire and Building Safety are calling on international apparel brands to sign on to the Accord's independent factory inspection program for another three years.
On April 24, 2013, 1,134 workers were killed and over 2,500 seriously injured when the Rana Plaza building collapsed. When workers reported for work that morning, they knew the building was unsafe, but they were told they had to go to work to meet the order deadlines of the international brands that sourced clothes from the five garment factories in the building.
Facing international outrage at this preventable tragedy, more than 200 apparel brands signed a legally-binding agreement with Global and Bangladeshi unions that set in motion an independent factory inspection program, transparent reporting on inspection findings and status of corrective action, and health and safety committees, training and a complaints process for workers.
Despite the significant progress made over the past five years toward improving factory safety, no credible and effective national regulatory body has been put in place to take over the important work of the Accord. For that reason, it is essential that apparel brands, both those that signed the original Accord and those that did not, sign on to the renewed Accord for another three years.
As the fifth anniversary of Rana Plaza approaches, the Global Union signatories to the original Accord – IndustriALL and UNI – and the four witness signatories – Clean Clothes Campaign, International Labor Rights Forum, Worker Rights Consortium, and Maquila Solidarity Network – are joining together to call on all apparel brands whose products are made in Bangladesh to sign the renewed Accord without further delay.
Click here for the joint statement:
Click here to read the United Steelworkers letter being sent to Sportchek stores in Ontario and Quebec.
Click here to take action
Click here for background information on the Accord
Read Mark Anner's excellent report that takes stock of worker rights abuses since Rana Plaza