Aug 24, 2022 —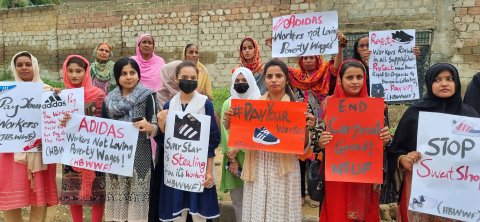 Photo: HBWWF action in Pakistan.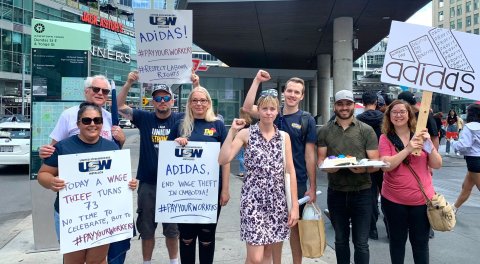 Photo: WU and USW action in Toronto.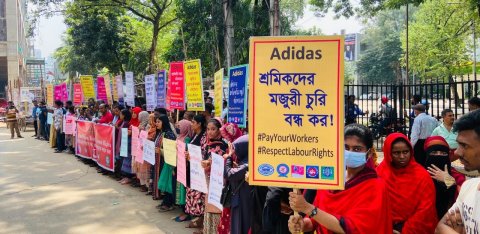 Photo: Action organized by multiple groups in Bangladesh.
An international coalition, led by unions in Cambodia, Sri Lanka, Bangladesh and India, organized a global day of action for adidas' anniversary on August 18. As part of the #PayYourWorkers campaign, the coalition is calling on adidas to negotiate directly with unions representing workers in their supply chain to ensure workers are paid and their rights are respected.
Garment workers are owed billions in wages after the industry was devastated when the pandemic hit. Canceling or changing orders, adidas and other brands earned huge profits while workers in their supply chain faced lay-offs, factory closures, wage theft, and union busting tactics.
At the beginning of the pandemic, factory management at an adidas supplier, Hulu Garment, in Cambodia tricked 1020 workers into resigning to avoid paying them legally owed severance. Cambodian workers from 8 adidas supplier factories are owed an estimated $11.7 million from the 2021 lockdowns alone. In May 2022, 5,600 workers at another adidas supplier in Cambodia, Can Sports Shoe, went on strike over unpaid wages. At least three union leaders were arrested, released only after they signed a document stating they would not organize demonstrations that could interfere with factory operations.
The international coalition calls on adidas to enter negotiations toward an agreement that would:
Ensure workers in their supply chain are paid full wages for the duration of the pandemic;
Secure contributions to a Severance Guarantee Fund to ensure workers receive the severance they are owed when factories close or carry out mass layoffs; and
Protect workers' right to organize and bargain collectively.
On the global day of action in Toronto, Workers United and the United Steelworkers hand delivered a "Pay Your Workers" birthday cake along with a letter signed by a number of the Canadian endorsers of the campaign: Canadian Labour Congress (CLC), Canadian Network on Corporate Accountability (CNCA), Centre international de solidarité ouvrière (CISO), Above Ground, Public Service Alliance of Canada (PSAC), United Steelworkers (USW), Workers United Canada Council, and Maquila Solidarity Network (MSN).
Adidas has both the means and the responsibility to ensure the rights of workers in their supply chain are respected long-term.
For more information: