Dec 17, 2021 —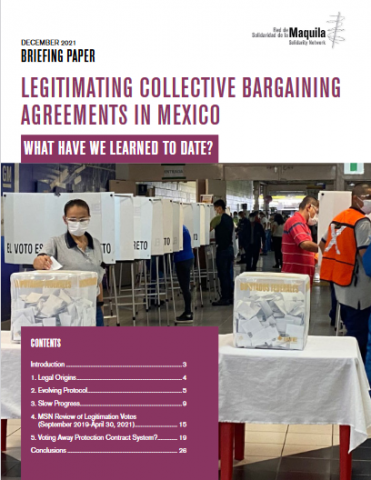 MSN's latest Briefing Paper on Mexico's labour justice reform assesses the process for legitimizing existing collective bargaining agreements, a four-year process initiated in 2019. All existing CBAs in Mexico must be subjected to a vote for the workers' approval by May 1, 2023.
The 31-page report critically examines how the votes are organized and implemented, why most have been in favour of existing CBAs, how government oversight could be improved, and the need for greater transparency in public reporting.
The paper questions whether the legitimation process will achieve the government's stated goal of challenging the country's protection contract system, in which unrepresentative unions sign contracts with employers without workers' knowledge or consent.
The paper also includes a brief Case Study on a high-profile and ongoing dispute at a General Motors truck assembly plant in Silao, Guanajuato, in which workers voted against their existing CBA. At publication, three unions are competing for the right to negotiate a new agreement with the employer.
Accompanying the paper is a database developed by MSN that provides detailed information on 1,300 CBA legitimation votes that took place during the first two years of the process.