Dec 1, 2022 —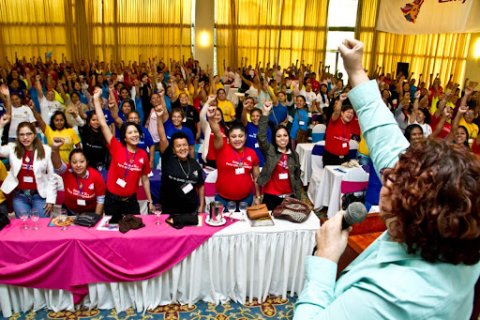 On November 8, Nicaragua's Movement of Working and Unemployed Women – Maria Elena Cuadra (MEC) received the 2022 Leslie Nichols International Award. The Award, presented annually by the American Public Health Association (APHA), recognizes individuals and organizations for their outstanding achievements in the field of Occupational Health and Safety (OHS) outside the United States.
Since its founding, in 1994, MEC has been a strong and inspiring advocate for garment workers' rights in Nicaragua's free trade zones, where low wage jobs and the lack of labour protections make workers vulnerable to abuse. While the current Nicaraguan government has confiscated its office and stripped the organization's legal status, MEC has reaffirmed its commitment to continue to defend the health and rights of women workers.
This international award is testament to the important work that MEC has carried out related to the protection of women's health and safety and to their ongoing commitment to achieve dignified employment for women garment workers. MSN continues to admire this important work and is thrilled that MEC has won this well-deserved and prestigious international award.
Read 'MEC wins APHA award' written by Garrett Brown, Coordinator of the Maquiladora Health and Safety Support Network and OHS section member.
For more information: