Mar 26, 2021 —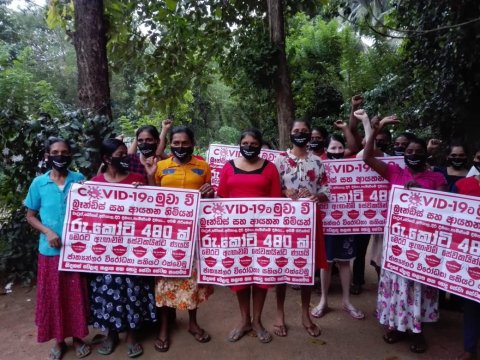 Photo caption: Garment workers in Sri Lanka protesting for full payment of wages and bonuses and respect for union rights during the #PayYourWorkers week of action, March 2021 - FTZ & GSEU.
On March 24, seven international trade union and labour rights organizations, including MSN, published an 18-page brief on the situation of the Sri Lankan garment industry during the pandemic. The report describes how apparel brands, retailers, and manufacturers have continued to take in huge profits while cutting costs at the expense of workers' health, employment security, and income.
COVID-19 Pandemic: A Pretext to Roll Back Sri Lankan Garment Workers' Rights urges brands and employers in the Sri Lankan garment sector to engage in national dialogue with unions to ensure workers' rights, wages and health are safeguarded.
The brief describes the devastating effects that the Covid-19 pandemic has had on Sri Lanka's 300,000 garment workers, the majority of whom are women. These impacts includes the continuing failure of employers to pay bonuses and to do so in a timely manner, the threat of imminent closure of several large factories employing over 4,500 workers, the absence of freedom of association and the right to collective bargaining, anti-union attacks on workers, and several mass Covid-19 outbreaks that have led to new infection waves in the country at large. It highlights the October 2020 Brandix factory outbreak which resulted in over 2,000 infected workers and an exponential spread of the infection throughout the southwest region of the country.
Garment manufacturers have further exacerbated this crisis through their failure to comply with tripartite agreements to address the crisis and their refusal to include worker representation in their Covid-19 response.
According to Anton Marcus, joint secretary of the FTZ GSEU union in Sri Lanka, "During the pandemic, employers have used various tactics to push employees out, often without paying legally entitled compensation, and arguing that they cannot pay full wages and bonuses, even though they are massive companies. Brands and suppliers must take responsibility for the workers in their supply chain. In Sri Lanka, this should start with a national dialogue between manufacturer association JAAF and unions; an invitation we have extended many times, but which JAAF [Joint Apparel Association Forum] has thus far ignored."
The report concludes with a series of recommendations to brands and retailers that source from Sri Lanka to ensure that their suppliers pay their workers their full wages and other benefits, including annual bonuses, and encourage a meeting between JAAF, the garment manufacturers' association, and the FTZ&GSEU, the union with the largest presence in the Sri Lanka apparel industry. The purpose of the meeting would be to develop a bipartite approach to the serious issues facing the Sri Lanka garment industry.
While Sri Lanka is a relatively small player in the international garment sector, the country is a key supplier to major brands such as UK-based Next, PVH (Calvin Klein) and Nike and it is dominated by three large manufacturing companies -- Brandix, Hirdaramani and MAS Holdings -- each with over a dozen factories employing tens of thousands of workers, producing garments for global brands such as Gap, Lululemon, Ralph Lauren, Victoria's Secret, Marks & Spencer, Levi's and others.
The situation in Sri Lanka is yet another example of the overall lack of supply chain responsibility in the garment sector during the pandemic. Instead of monitoring working conditions in their supply chains during this crisis, brands and retailers have resorted to cancelling orders, and delaying payments. Instead of encouraging their suppliers to uphold workers' rights, brands and retailers have ignored manufacturers, and turned their backs on the workers who make their clothes.
The brief "COVID-19 Pandemic: A Pretext to Roll Back Sri Lankan Garment Workers' Rights" is available here.