Aug 7, 2023 —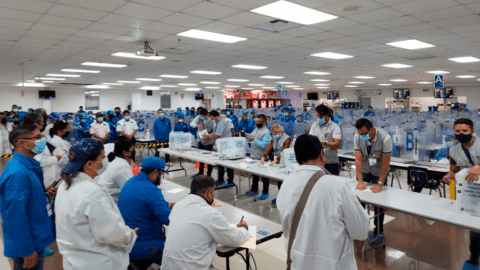 Photo: El Economista
July 31 was the official deadline for the completion of all legitimation votes on existing collective bargaining agreements (CBAs) under Mexico's labour justice reform, but there are still a number of votes scheduled to take place later in August.
Any existing CBAs that are not subjected to a legitimation vote will be terminated. Of the approximately 139,000 registered CBAs in the country, the Federal Centre for Conciliation and Labour Registration estimates that just over 100,000 have been eliminated, the vast majority of which were "employer protection contracts."
According to the latest figures posted on August 1 by the Federal Centre, a total of 27,336 CBAs have been legitimated since the reform came into effect in May 2019, and only 596 have been voted down by workers. As of that date, 3,855 cases were pending; the way the Federal Center resolves these cases could increase the number of legitimized CBAs, but information available on these cases is limited.
The results of two recent CBA legitimation votes in garment factories owned by Apparel International (a.k.a. Delta Staff Manufacturing) in Coahuila and Durango show that when workers are aware of their rights under the labour reform, a larger percentage are likely to vote against protection contacts. MSN's long-term partner, the Committee of Border Workers (CFO), has been providing support to workers' organizing efforts in both factories.
Although the official results of the July 11 vote at the company's Torreon factory were in favour of the existing CBA, 324 workers voted "no" of the 891 who voted. Workers at that factory have since filed a complaint with the Federal Centre documenting numerous incidents of employer interference in the process and failure to comply with legal obligations. In the July 20 vote at the company's Nazareno factory 762 workers voted against the existing CBA and only 133 voted in favour, which means the CBA will be terminated. Neither result has yet been certified by the Federal Centre.