Jun 15, 2023 —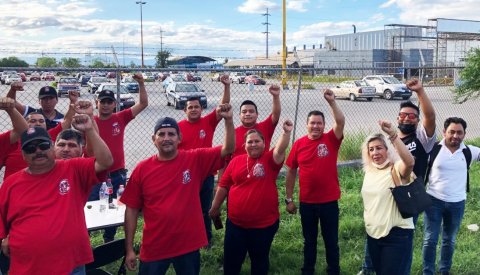 Photo: Teksid Hierro workers celebrate union victory (IndustriALL).
Four years after the launch of Mexico's labour justice reform, legitimation votes on all existing collective bargaining agreements (CBAs) were to be completed by May 1, 2023. Mexico's labour authorities extended that deadline to July 31, while requiring that unions register the dates of such votes by May 1. If legitimation votes have not been carried out or programed by May 1, or are programed but are not held before July 31, the CBA is terminated.
As of June 15, official figures indicate that slightly more than 19,000 contracts have been legitimated, about 14% of all CBAs in Mexico. According to the most recent reports of the labour authorities, approximately 3,000 legitimation votes have been programed to take place by July 31, while approximately 14,000 applications for votes are still under review. They estimate that 40-45% of those applications will be rejected.
Given that the number union applications for legitimation votes filed shortly before May 1 was almost equal to the total number of votes held in the past four years of the reform, providing oversite for each vote will be extremely challenging for the labour authorities.The total number of CBAs approved or terminated by July 31 is difficult to predict, due to the lack of publicly available information, but we anticipate that more than 100,000 will be terminated.
Workers formerly covered by terminated contracts must continue to receive the wages and any rights and benefits that were provided for in the CBA, beyond what workers are entitled to by law, and their individual employment contracts need to be updated to include those rights and benefits.
What was the goal of legitimation votes?
Mexico's 2019 labour reform guaranteed workers the right to vote by secret ballot on their existing CBA, and to receive a printed copy of that agreement at least three days prior to the vote. In most cases, workers had not previously seen their CBA; many were not even aware they were "represented" by a union.
The CBA legitimation process was intended to eliminate these so-called employer protection contracts that were negotiated behind the backs of workers. The purpose of protection contracts was to prevent workers from organizing independent unions and negotiating authentic collective bargaining agreements. In exchange for this "service", a union leader or lawyer received dues deducted from the workers pay, or in some cases direct financial payments from the employer.
Previous governments at both the state and federal levels not only tolerated these perverse practices, but actively collaborated with employers and protection unions in the interest of preserving 'labour peace' (paz laboral) to encourage foreign investment.
Earlier in the CBA legitimation process, the Secretary of Labour and Social Welfare (STPS) estimated that there were approximately 530,000 CBAs in Mexico, and that 85% of those were protection contracts. That estimated total number of CBAs in Mexico has since been reduced to a little over 139,000 CBAs, based on the actual records that were housed in the former conciliation and arbitration boards.
How have workers voted, and why?
By the end of April, only 250 of the CBAs voted on had been rejected by workers in legitimation votes, according to Alfredo Domínguez Marrufo, Director of the Federal Centre for Labour Conciliation and Registration. However, those figures are also difficult to verify, and more negative votes could occur before July 31.
There are a number of reasons for the small percentage of cases in which workers voted against the existing CBA, including the fact that legitimation votes are being organized by the very unions that have an economic interest in preserving them, and the lack of government oversight of the process prior to the vote, when threats and inducements communicated to workers are most likely to take place.
In MSN's 2021 Briefing Paper, Legitimating Collective Bargaining Agreements in Mexico: What Have We Learned to Date?, we pointed to a number of anomalies in the voting process and union reports on the results, including a suspicious number of cases in which more than 40% of eligible workers did not vote. We also profiled some cases where workers were reportedly told by the incumbent union or management that the factory would close if they voted against the CBA, or that they would lose all their benefits if they voted "No."
Have "No" votes supported union organizing?
Not surprisingly, many of the cases in which workers have had the courage to vote "No" have been at workplaces where workers had previously received training on their rights under the labour reform and were already in the process of organizing alternative democratic unions.
In two recent cases – GM Silao and a Goodyear tire plant in San Luis Potosí – the "Miguel Trujillo" union affiliated with the Confederation of Mexican Workers (CTM) blatantly interfered in the voting process, destroying ballots after the first day of the GM Silao legitimation vote and stealing the ballot box in the midst of the Goodyear vote. In both cases, the vote was suspended by the labour authorities, who ordered a repeat of the voting event in which workers rejected the existing contract by a large margin.
There have been other important victories of independent unions in which the first step in the process was the rejection of the existing CBA in a legitimation vote. Most of them have been in the auto and auto parts sector where those unions were able to file denial of rights complaints under the rapid response labour mechanism of the trinational trade agreement.
Will voting rights for workers contribute to union democracy?
As we near the completion of the CBA legitimation process, it is telling that CTM affiliated unions continue to hold title to 2,369 collective bargaining agreements in the country, the largest number of any union confederation. While not all of these CBAs are protection contacts, it is very likely that a large percentage are. One negative outcome of the CBA legitimation process is that those protection contracts have now been legitimated.
On the positive side, the elimination of tens of thousands of protection contracts could open the door for independent unions to organize workers and negotiate authentic collective bargaining agreements in workplaces where protection contracts have been terminated. Whether independent unions will be able to take full advantage of this new opportunity is not yet clear.
According to labour rights expert Graciela Bensusán, "for the first time in a century, the labour justice reform offers workers the possibility of freely exercising their collective rights. To do so, however, they will have to overcome the resistance of both the traditional unions and the employers that have benefited from the status quo and have enjoyed unilateral control of labour relations for decades."
The labour justice reform also offers workers other important voting rights, including the right to vote by secret ballot on a newly negotiated CBA and biannual revisions to the CBA. Workers also now have the right to elect their union leaders in a personal, free, direct and secret-ballot vote. The reform also includes provisions requiring action on gender-based discrimination in the workplace.
Although the effectiveness of these new voting rights of workers and obligations of employers will also need to be tested in practice, there is no doubt that the labour reform represents a step forward for Mexican workers. As we noted in our 2021 Briefing Paper on the CBA legitimation process, "democratizing industrial relations in Mexico will clearly also require more fundamental changes in trade union culture, as well as workers gaining knowledge of the basics of labour law in order to interpret their CBA, and accumulating experience with more democratic forms of unionism."
For those that are interested in further reading in Spanish, see links below to a small sampling of Mexican media reporting on and assessing implementation of the labour reform and the CBA legitimation process:
Also see: