Bangladesh Fire and Building Safety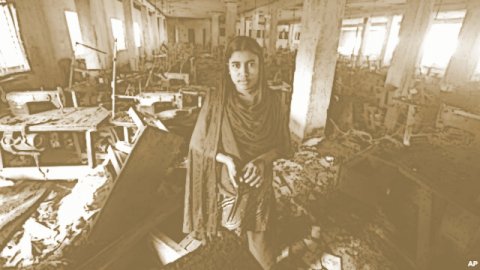 Since 2005, MSN has been working with Bangladeshi labour organizations and international allies to expose and remedy unsafe working conditions in the country's garment industry and to pressure international brands to compensate the survivors of factory disasters and eliminate unsafe conditions and practices in their supplier factories.
Bangladesh and International Accord
Following the Rana Plaza factory building collapse in 2013, labour unions and apparel brands have negotiated a series of agreements to better protect the health and safety of garment workers in Bangladesh.
The precedent-setting, legally-binding Accord on Fire and Building Safety in Bangladesh was created in the immediate aftermath of the collapse and achieved significant improvements to factory safety. In September 2021, the International Accord for Health and Safety in the Textile and Garment Industry took effect, preserving the key elements of the original Accord and potentially expanding its application to other countries.
Building on the achievements of the ground-breaking Bangladesh Accord, the International Accord includes independent garment and textile factory inspections, legally enforceable brand commitments, independent oversight of brand compliance, brand support to ensure that suppliers can afford to make necessary safety upgrades, and the obligation to stop working with factories that do not implement corrective action. The Maquila Solidarity Network is a witness signatory to the Accord, along with the Clean Clothes Campaign, Worker Rights Consortium, and Global Labor Justice-International Labor Rights Forum.
As of March 3, 2022, 170 brands have signed onto the 2021 International Accord, following an extensive international campaign. To date, Loblaw (Joe Fresh) is the only Canadian company signatory.
Background: Rana Plaza Disaster and the Fight for Compensation
The April 24, 2013 Rana Plaza building collapse in Dhaka, Bangladesh killed 1,134 workers and injured approximately 2,500. The building housed five garment factories. Its collapse has been dubbed the worst industrial disaster in the history of the Bangladesh garment industry. However, this was no accident; workers knew the building was unsafe but had been forced to go to work to meet the order deadlines of international brands.
Rana Plaza was not the first garment factory related tragedy in Bangladesh. Five months before, 112 workers were killed in the Tazreen factory fire. Since 2012, hundreds of workers have been killed in preventable factory fires and building collapses.
The Accord on Fire and Building Safety in Bangladesh was a precedent-setting response to the Rana Plaza tragedy and to ongoing risks to workers' safety.
It took two years of campaigning to convince international apparel brands to contribute a total of US$30 million to the Rana Plaza Donors Trust Fund. The ILO-administered fund provided for lost income and medical expenses, but did not provide compensation for the pain and suffering of the families and survivors.
Tazreen Factory Fire
In November, 2012, prior to the Rana Plaza disaster and the Accord on Fire and Building Safety in Bangladesh, 112 workers were killed and over 200 injured in what has been considered the deadliest fire in Bangladesh's history. This was yet another preventable disaster in a long line of factory fires that had occurred in Bangladesh garment factories for years. Prior audits had uncovered serious fire safety concerns including poor electrical wiring, lack of functioning fire alarms, and obstacles to fire safety routes. Major international brands were sourcing from the factory at the time, including Disney, Sears/Kmart, Dickies, Li & Fung, C&A, and Walmart – who initially denied they had production there.
More than two years after the tragedy at Tazreen, an agreement was finally reached. International apparel company C&A established a fund with contributions from brands sourcing from the factory, which provided for loss of income payments and long-term medical treatment. The payments were concluded in June 2016, and a medical trust continues to oversee long-term medical treatment for the injured. Unfortunately, given the garment industry's woefully low minimum wage, calculations of the compensation owed for workplace injuries and life-long wage loss fall short of what survivors need.
Protests reignited in October and November of 2020, at the height of the COVID-19 pandemic and eight years after the factory fire. Tazreen survivors and family members held protests on the sidewalks outside the country's Press Club, demanding adequate and dignified compensation. Because of their injuries, many workers have been unable to find other jobs and are struggling to pay for their basic necessities.