Bangladesh Fire and Building Safety and Workers' Rights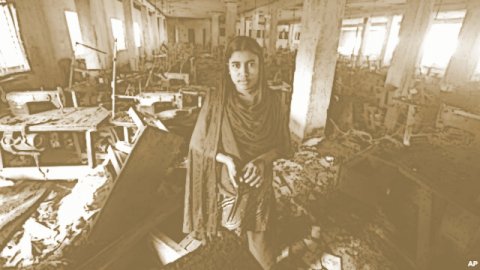 Since 2005, MSN has been working with Bangladeshi and international allies to expose and remedy unsafe working conditions in the country's garment industry and to pressure international brands to compensate the survivors of factory disasters and eliminate unsafe conditions and practices in their supplier factories.
Fire and Building Safety
The April 24, 2013 Rana Plaza building collapse in Dhaka, Bangladesh killed 1,134 workers and injured approximately 2,500. The building housed five garment factories. Its collapse has been dubbed the worst industrial disaster in the history of the Bangladesh garment industry. However, this was no accident; workers knew the building was unsafe but had been forced to go to work to meet the order deadlines of international brands.
Rana Plaza was not the first garment factory related tragedy in Bangladesh. Over the past 15 years, hundreds more workers have been killed in preventable factory fires and building collapses, and only within the last five years have there been efforts to compensate workers. Five months before Rana Plaza, 112 workers were killed in the Tazreen factory fire.
The Fight for Compensation
It took two years of campaigning to convince international apparel brands to contribute a total of US$30 million to the Rana Plaza Donors Trust Fund, so that the survivors and families of workers killed could receive compensation for lost income and medical expenses. However, the ILO-administered fund did not provide compensation for the pain and suffering of the families and survivors.
MSN lobbied Loblaw to contribute and increase its contribution to the Trust Fund. We also participated in the international campaign targeting The Children's Place, Walmart and other companies linked to Rana Plaza.
More than two years after the Tazreen factory fire, an agreement was finally reached with international apparel company C&A to establish a fund with contributions from brands sourcing from the factory, which would provide for loss of income payments and long-term medical treatment. The payments were concluded in June 2016, and a medical trust continues to oversee long-term medical treatment for the injured.
Accord on Fire and Building Safety in Bangladesh
The Accord on Fire and Building Safety in Bangladesh (the Accord) was a precedent-setting response to the Rana Plaza tragedy and to ongoing risks to workers' safety in Bangladeshi ready-made garment factories.
Established one month after the Rana Plaza collapse and continuing until May 2018, the Accord represented a recognition that the company-controlled factory audit system was failing to detect and eliminate fire and building safety hazards in the country's garment industry.
The Accord was a legally-binding agreement between Global and Bangladeshi unions and over 200 apparel brands and retailers. It required signatory brands and their Bangladeshi suppliers to cooperate with independent safety inspections, the results of which were published on the Accord website.
Signatory companies were also required to underwrite the costs of necessary factory upgrades. Under the Accord, workers and management personnel received health and safety training and their representatives participate in health and safety committees. Workers also have the right to file complaints about unsafe conditions and to refuse unsafe work.
After the five-year Accord expired on May 31, 2018, it was replaced by the "2018 Accord" also known as the "Transition Accord", which will continue the factory inspection and worker training program for an additional three years or until a national regulatory body demonstrates its ability to take over the role of the Accord.
Through immense international pressure, as of July 5, 2018, over 183 brands and retailers have signed the 2018 Accord, including two Canadian companies, Loblaw and Brüzer Sportsgear which hold licenses to produce clothing for several U.S. and Canadian universities, including York University, the University of Toronto and Memorial University. Both companies were also signatories to the 2013 Accord.
MSN is a witness signatory to both the original Accord and the 2018 Transition Accord and was a member of the Accord's Worker Participation Working Group. MSN also played a leading role in convincing Canadian retailer Loblaw to sign the Accord after clothes bearing the company's Joe Fresh label were found in the rubble of the Rana Plaza building.
Workers' Struggle for a Living Wage, and Anti-Union Repression
Workers' fight for decent wages has been ongoing in Bangladesh, as has government repression whenever workers organize to achieve improved wages and working conditions.
In December 2016, worker protests for decent wages were met with violent crackdowns by national and industrial police forces. Despite the repression, workers have continued to mobilize and lobby industry and government for substantial increases to the country's minimum wage.
In 2018, there were renewed calls for an increase in minimum wage in Bangladesh. As a member of the Clean Clothes Campaign (CCC), MSN is continuing to collaborate with other labour rights organizations on campaigns for a living wage and respect for workers' right to organize and bargain collectively.