Sep 28, 2022 —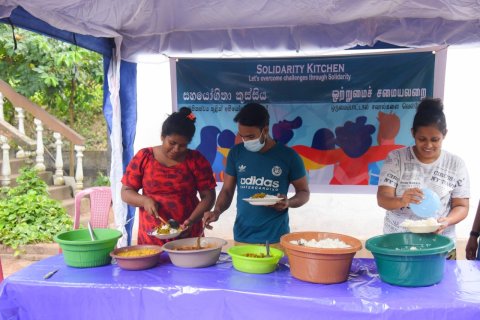 Solidarity kitchen organized by FTZ & GSEU and the Women's Center.
Photo: Free Trade Zones Workers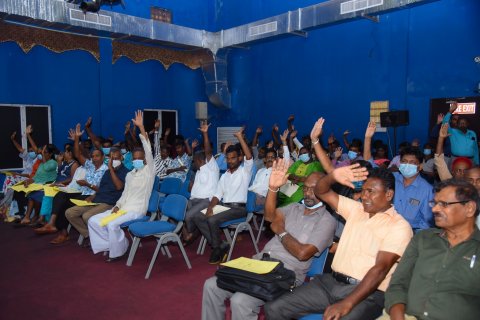 Social Movement for a People's Economy convention on urgent economic relief. Photo: Free Trade Zones Workers
On September 23, MSN, in collaboration with the Clean Clothes Campaign, Labour Behind the Label, War on Want and Workers United - SEIU, sent a letter to major international clothing companies sourcing from Sri Lanka raising concerns about the deteriorating labour rights situation and urging brands to voice their concern about recently proposed labour reforms which threaten to weaken vital rights provisions and protections, especially for women workers. The letter also calls on companies to ensure ILO standards, uphold stable pricing, contract terms and working conditions, and protect the right to freedom of association.
In August, the Ministry of Labour, without consultation with national trade unions, submitted deeply concerning proposals to reform current labour laws. These include a proposal to increase the number of hours of overtime allowed for female employees from 60 to 75 hours per month, to increase the number of days of night work allowed for female employees from 10 to 15 days per month, and to strike down an act that assures protection from arbitrary termination.
The people of Sri Lanka are experiencing the worst economic crisis in decades with rapidly increasing inflation and scarcity of many essentials, including food and fuel. The inflation rate reached 70.2% in August and government plans to address the crisis are focusing on international loans and debt-restructuring programs that tend to prioritize privatization and free trade rather than workers' rights.
Under the current State of Emergency, peaceful protests to demand government transparency, increased democratic participation, and accountability for historic corruption and economic mismanagement have been met with violence and a disregard for freedom of association.
Over the past month, the largest union representing garment workers, the Free Trade Zones & General Services Employees Union (FTZ & GSEU), has been subjected to a number of attacks. The union's offices were broken into twice, and while nothing of value was stolen, documents were rifled through. Meanwhile, the national body responsible for registering trade unions has questioned the legitimacy of the union, stating alleged anomalies in the union's constitution. The FTZ&GSEU has been vocal in criticizing recent government actions, including the reforms that favour employers instead of workers during the crisis.
The garment and textile sector, which employs over 300,000 workers, is crucial for the Sri Lankan economy and many garment factory workers are migrants from rural areas whose wages are a vital source of income.
More information: